Sweden's Reinfeldt Says Tax Cuts Are Over as Election Nears
Johan Carlstrom and Niklas Magnusson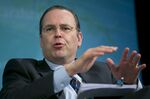 Swedish Prime Minister Fredrik Reinfeldt pledged to end years of tax cuts that polls show alienated voters focused on education spending as he fights for political survival ahead of September elections.
"We could very well consider taking further measures but public finances are superior to all else and that's our starting point," Reinfeldt said today at a press conference in Stockholm. "That means that we won't push through any more tax cuts in 2015 and 2016 and as it looks right now there won't be any further tax cuts in all of the next mandate period."
Reinfeldt, who has cut income taxes five times and corporate taxes twice since coming to power in 2006, is now adjusting his policies as his four-party coalition trails the Social Democratic-led opposition in the polls by more than 15 percentage points. Some polls suggest voters are concerned that Reinfeldt's measures have undercut efforts to improve education, employment and health care.
The Social Democrats, together with their allies in parliament, look poised to win the Sept. 14 election after an eight-year hiatus, having positioned themselves as the defenders of Sweden's welfare model. The three-party opposition, which includes the Left Party and the Green Party, would win 52.8 percent of votes, compared with 36 percent for the government, according to a Sifo poll published in Svenska Dagbladet newspaper on Feb. 16.
Narrowing Deficit
The krona slipped 0.2 percent against the euro to 8.8370 as of 1:34 p.m. in Stockholm. Versus the dollar, it lost 0.1 percent to 6.4502.
Sweden's budget deficit will narrow to 0.5 percent of gross domestic product next year from 1.2 percent in 2014, the European Commission estimated in November. That's well within Europe's 3 percent deficit limit and less than half the average 2.4 percent shortfall seen in the euro area next year.
The Swedish economy will expand 3.5 percent in 2015 after growing 2.8 percent this year, the commission said. The 18-nation euro area will see its combined economy grow 1.7 percent next year, according to the EU's executive arm.
Growth Outlook
Finance Minister Anders Borg told reporters after the same press conference today that he's seeking to raise taxes on alcohol and cigarettes as well as cars.
Sweden, which isn't a member of the euro area, largely managed to steer clear of the debt crisis in southern Europe, and even cut income taxes at the start of the year. Borg said today Sweden will return to normal economic growth in 2015, and sees output expanding 2.5 percent to 3 percent in coming years. The government targets a surplus of 1 percent of gross domestic product by the end of the next governing period in 2018, he said.
A Dagens Nyheter/Ipsos poll released this month showed Swedes ranked education as the most important issue ahead of the elections, followed by jobs, healthcare and care for the elderly. Taxes ranked 10th.
Before it's here, it's on the Bloomberg Terminal.
LEARN MORE