Singapore Home Sales Post Slowest Start to the Year Since 2009
Pooja Thakur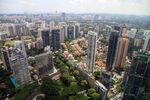 Singapore's home sales slid in January, marking the slowest start to the year since 2009, as developers sold fewer projects after property curbs crimped demand.
Home sales declined 72 percent to 565 units last month compared with 2,028 in the same period a year ago, according to data from the Urban Redevelopment Authority released today. The number of units sold was the lowest in the month of January since 2009, when 108 were sold in that month, the data showed.
"There were very few projects marketed last month as developers with smaller projects stayed away from the market on weak buyer sentiment," said Alan Cheong, a Singapore-based director at Savills Plc. Home sales in the quarter could be as low as 1,000 units, he said.
The government introduced loan measures in June as it widened a campaign that started in 2009 to curb speculation in the Southeast Asian city. Singapore's property market is stabilizing and the country isn't facing a credit bubble that puts the island or its banking system at risk of a crisis, the central bank said on Jan. 15.
The Monetary Authority of Singapore in a statement Feb. 10 broadened exemptions from borrowing limits for homebuyers who bought properties before the June rules were introduced, making it easier for those buyers to refinance mortgages.
Singapore's fourth-quarter home prices slid for the first time in almost two years, trimming annual gains to the smallest since 2008. Housing values gained 1.1 percent in 2013, the smallest annual increase since prices slid 4.7 percent in 2008.
The private residential property price index fell 0.9 percent to 214.3 in the three months ended December, data from the authority showed on Jan. 24.
Before it's here, it's on the Bloomberg Terminal.
LEARN MORE