Renzi Sets 100-Day Agenda After Designation as Italian Premier
Andrew Frye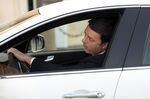 Florence Mayor Matteo Renzi, Italy's prime minister-designate, set to building a parliamentary majority by outlining a 100-day legislative burst, starting with a voting-law overhaul this month.
Once a new electoral system is in place, Renzi promised measures in March to stimulate hiring. Those would be followed by policies to reduce bureaucracy and modify the tax code, he said today after President Giorgio Napolitano gave him the mandate to form a government. Renzi will meet with political-party leaders the next two days before returning to Napolitano with his cabinet to officially take office.
Renzi, 39, will become the youngest prime minister in post-World War II Italy if he can pull together majorities in both houses of parliament. He controls the Democratic Party, the legislature's biggest group, which he used to topple outgoing Premier Enrico Letta last week. The leaders of some of the smaller parties have said they are open to backing Renzi.
"We will take the time that's needed, knowing that out there there's a sense of urgency," Renzi said. He needs "a few days to get around to making a final commitment," he said.
The legislature, installed after elections 12 months ago, is due to expire in 2018. If Renzi can't secure the necessary backing in parliament, Napolitano may dissolve the assembly and call another vote.
Markets have indicated support for Renzi. Italy's 10-year bonds have rallied, sending the yield to the lowest in eight years. The yield fell 6 basis points to 3.63 percent at 1:32 p.m. in Rome.
Renzi's March
The mandate from the president today caps a three-year march to power in which Renzi cut down established leaders in his party and won supporters across the political spectrum. He is moving the Democratic Party, which named him general secretary in December, away from its traditional reliance on labor unions with an appeal to entrepreneurs and the growing ranks of the unemployed.
While Renzi has yet to lay out a detailed economic program for the country with Europe's second-biggest debt, he has proposed reducing taxes on businesses and increasing levies on financial activities. He also said he wanted to extend unemployment benefits and simplify labor laws.
Renzi, the mayor of Florence since 2009, has risen on his youth, wit and an ease with media from television to Twitter that broadened his constituency nationally. The success has drawn him comparisons to three-time Prime Minister Silvio Berlusconi's approach to politics.
'Meaningful' Connection
"Renzi is the first Italian leader since Berlusconi who has a realistic prospect of connecting with voters on a meaningful level," Alexander White, a European political analyst at JPMorgan Chase & Co. in London, said in a research report. "His premiership could see the political mainstream begin to take back some of the ground that had been ceded to the populists."
Renzi is stepping into a parliament whose divisions have only increased through the European debt crisis and Italy's more than two-year economic slump. The upstart Five Star Movement, led by self-described populist Beppe Grillo, became the top opposition party last year, and Berlusconi's legal problems caused his party to split in two. Even Renzi's rise, which has appealed to voters at large, has pushed his Democratic Party into turmoil.
Renzi positioned himself for a shot at the premiership last week by turning the Democratic Party against Letta, who is also a member of the group. The decision to withdraw support from Letta after just 10 months in government was opposed by a minority of the PD, and Renzi will have to make up with Letta loyalists to control the party's delegation in parliament.
Berlusconi Resignation
Political instability has plagued Italy since Berlusconi's last government ended in resignation in November 2011. That month three main parties came together to bring Mario Monti to government, only to withdraw their support a year later. Letta's administration was a parliamentary compromise after inconclusive elections in February 2013.
The Democratic Party, known in Italy as the PD, has just 108 of the 320 seats in the Senate, which is the more fragmented of the two houses of parliament. Renzi may have to cajole leaders like Monti and Angelino Alfano, the former Berlusconi ally who served as deputy premier under Letta, to secure a majority.
Given the divisions in the parliament, a return to the polls before 2018 can't be ruled out. Berlusconi, 77, was expelled from the Senate in November after a conviction for tax fraud. He has said he will keep guiding his party, which according to opinion polls has maintained its popularity with the electorate.
"Renzi's appointment as prime minister is positive in the short-term," Marco Brancolini, a strategist at Royal Bank of Scotland Group Plc, said in an interview. "The major risk is that, in case of early elections, there is a possibility Berlusconi might defeat Renzi."
Before it's here, it's on the Bloomberg Terminal.
LEARN MORE