Penn State Names Eric Barron Leader After Sandusky Scandal
John Lauerman and Sophia Pearson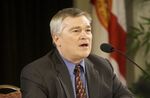 Pennsylvania State University's board named Eric J. Barron as its next president, replacing Graham Spanier, the former leader who was ousted after the campus became embroiled in a sex-abuse scandal.
Barron, 62, now president of Florida State University, will assume the post by May 12, Keith Masser, chairman of the board, said yesterday at a meeting in State College, Pennsylvania.
Penn State's presidential selection committee chose Barron, and the full board voted at the meeting. Spanier, who was fired in 2011 and faces criminal charges that include orchestrating an alleged cover-up, had been succeeded by Rodney Erickson on an interim basis.
"I hope the winds of change are blowing in the form of a renowned climatologist named Eric J. Barron," trustee Anthony Lubrano said at the meeting. "It's time to bring us all home. We want to return. We want to heal. We just need a leader to show us the way."
Jerry Sandusky, a former assistant football coach who served under late Penn State head coach Joe Paterno, was convicted in June 2012 on 45 counts related to sexually abusing boys. The school has undergone investigations, replaced top officials, and agreed to pay $59.7 million in settlements to 26 abuse victims.
Barron, Florida State's president since February 2010, spent two decades at Penn State starting in 1986 including positions as professor of geosciences, director of the Earth System Science Center and dean of the College of Earth and Mineral Sciences.
'Incredibly Painful'
He takes over a university still overshadowed by the impact of the Sandusky case. Penn State was also fined $60 million by the National Collegiate Athletic Association for its handling of the scandal and has been barred from participation in lucrative post-season football games for four years. The school has spent more than $50 million to pay for legal defense, public relations and other costs associated with the controversy.
"Those events were incredibly painful and saddening to all those people that love Penn State University," Barron said at a news conference after the board vote. "But what I see is an institution that has really taken control of compliance and is no doubt now a model university that I think a lot of other universities are going to look at."
Sandusky, 70, was sentenced in October 2012 to at least 30 years in prison for abusing boys over a 15-year period, sometimes on the school's campus. He is serving time in a maximum security facility in Waynesburg, Pennsylvania.
Varied Career
Barron received a bachelor's degree in geology from Florida State and has a master's and a Ph.D. from the University of Miami, according to FSU's website. He previously served as director of the National Center for Atmospheric Research in Boulder, Colorado, and was dean of the Jackson School of Geosciences at the University of Texas at Austin from 2006 to 2008.
"An award-winning teacher, Dr. Barron has been an innovative leader in providing undergraduate students with superior curricular and extracurricular experiences," said Brent Yarnal, a geography professor and chairman of the university's faculty senate, who played a role in the selection process. "I worked for and with him for 20 years. I saw his talents and his devotion to Penn State."
Board Interaction
In a recent study of public higher education in Florida by the American Council of Trustees and Alumni, Florida State rated well in controlling costs, promoting affordability, and putting quality academics first, said Anne Neal, president and co-founder of the council. While Barron may be ready to take on challenges, Penn State's board must be prepared to work with him, she said.
"When you pick a president, it's only the beginning of engagement and interactions between the board and the president," Neal said in a telephone interview. "There's still a ways to go to make sure the board is transparent in its operations and everyone is engaged in critical decisions."
Spanier, ex-Athletic Director Timothy Curley and Gary Schultz, a retired vice president in charge of university police, were ordered in July to face trial on charges including endangering the welfare of children, conspiracy and perjury for the alleged cover-up of Sandusky's abuse.
It will be important for Barron to embrace a commitment to greater engagement and a respect for shared governance and the public mission of the university, said Lawrence Backer, a professor of law and government affairs, and former chairman of the faculty senate.
"I am pleased to note that this president has come home to a place he knows well and whose culture has no doubt shaped him to a large degree," Backer said in an e-mail yesterday. "We all expect great things and look forward to his collaborative and engaged leadership."
Before it's here, it's on the Bloomberg Terminal.
LEARN MORE