Levo League's New Model for Millennial Media
by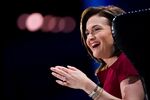 With so many companies chasing gen Y women, why is Levo League getting so much buzz? Sure, Levo Chief Executive Caroline Ghosn is the daughter of Carlos Ghosn, who runs both Nissan Motor and Renault. Ms. Ghosn and her Levo co-founder, Amanda Pouchot, are both millennials themselves. And it helps to have support and $1.25 million of seed money from such investors as Facebook Chief Operating Officer Sheryl Sandberg and AOL's Susan Lyne. Scoring interviews with such folks as Warren Buffett will also put you on the map.
But Levo has built an audience of 8 million since 2012 by filling a need, not attracting big names. Its mission to empower young women in the first 10 years of their careers is backed up by a breezy mix of self-help articles, digital access to mentors, job postings, and live chats with prominent role models. The group also has 23 local chapters to connect offline.
Now, armed with $7 million in venture funding, Ghosn is launching Levo 2.0. The goal: to turn what she calls a "self-serve buffet" of mainly U.S. content into a global "recommendation engine for your career." If Ghosn succeeds, Levo could become a model for using data to create more meaningful and lucrative ties with customers. "We're always asked, 'What should I be doing? Who should I be talking to?'" says Ghosn. "We want to create a resource that knows who you are and where you are in your career and can help you thrive in that stage." How? By using psychographic data to understand the different types in her audience and marrying the information with advances in machine learning, so each user's behavior will suggest what category best suits her every time she logs on. "The more you engage with Levo," Ghosn says, "the more you'll find you're getting what you need."
The devil, of course, is in figuring out how to do that. Getting accurate insights into what a customer wants and having the ability to produce it are two different skill sets, notes Heidi Messer, the co-founder and chairman of Collective[i], a cloud-based technology that lets companies share and analyze vast quantities of data to make better choices in such areas as marketing. Messer, who also co-founded LinkShare, is hard-pressed to think of a brand that gets top marks in both. "All the content companies are insight-starved," she argues, "and the tech companies seem starved for quality content."
It helps that Levo League is sharply focused on the first decade of a woman's career, which Ghosn calls "no man's land, where you're not senior enough to get coaching but need to stand out if you're going to get ahead." That Ghosn herself just turned 27 is also a plus, according to chief executive consultant Davia Temin. "Lots of people are trying to define the voice of young women today," she says. "With Levo, they're speaking for themselves." But it remains a vast category that ranges from wannabe entrepreneurs to aspiring CEOs, bewildered college grads to burnt-out professionals who feel trapped in a job they hate.
While trying to personalize content for that group is far from a perfect science, Ghosn says users often leave telling clues. "If we know you work in New York and see that you're reading a lot of articles on burnout and office politics, that might suggest you're open to new job opportunities," says Ghosn. On the other hand, someone who has just listed a new job may be hungrier to learn how to make a good impression or want to connect with mentors and millennials in her new company.
And the content? Ghosn says that will come from bloggers, partners, mentors, and others associated with the network. While she's working to increase the volume of content, articles are just one part. Local Levo events, live chats, networking opportunities, and the chance to connect with mentors are an equal if not stronger draw. She's working with learning website General Assembly on a Levo curriculum. She also plans to have mentors showcase their strengths better with blog posts and office hours, helping them create communities of followers.
Kelly Hoey, an entrepreneur who's also a mentor and early investor in Levo, likes having a platform to dispense advice to younger women with no strings attached. "Every mentoring experience doesn't have to be a lifelong relationship," says Hoey, who runs a startup accelerator called Women Innovate Mobile.
While Ghosn may have investors who like Levo's mission—like Facebook's Sandberg, France's Véronique Morali, and Saudi business leader Lubna Olayan—they also expect Levo to generate a return. Ghosn is focused on making Levo more valuable to corporate partners that pay to post jobs and bring the Levo community into their companies. Establishing the corporate equivalent of local Levo communities, on the other hand, is more about retention. Ghosn needs to show how Levo can help women elevate their careers and discover new strengths without jumping ship. "We could work with a lot more," she says. "But we need to focus on getting this right."
Ghosn wants to expand Levo's audience "by a factor of five this year," setting up Levo in Johannesburg, London, Paris, Hong Kong, and one other foreign market. She also expects to set up networks in 10 to 15 major companies. It's the kind of bold vision she learned from a father who runs two auto companies on opposite sides of the world. "I've learned so much from him about focus and staying the course," she says. "As the leader of anything, you have to be very clear about the line and the vision."
Before it's here, it's on the Bloomberg Terminal.
LEARN MORE