Illumina and a Billionaire Want to Jump-Start Genomics Upstarts
by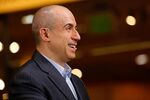 One of the big themes in Silicon Valley over the past three or four years is how cheap it has become to start a company that can reach millions of people. Amazon.com and others have come to market with low-cost computing infrastructure services that software developers can rent by the hour and use to get their companies up and running without having to fork over a bundle on hardware. Smartphones and tablets have allowed small teams of app makers to earn good livings on the back of a relatively modest amount of work.
Some startups haven't had it so easy. Biotech companies, for example, often require more funds to pay for capital equipment and laboratory costs. Regulatory hurdles and the time needed to commercialize a product can also put off venture capitalists, who more than ever seem to want to chase quick, easy money. There's an argument to be made that biotech startups could use an extra helping hand to get going. Which brings us to a new accelerator program for genomics companies.
Last week, Illumina, the top seller of gene sequencing machines, announced a deal in tandem with Yuri Milner, the billionaire Russian investor behind Facebook, Twitter, and many other Web companies, to provide some aid to a select group of genomics startups. Illumina will carve out a laboratory at its San Francisco research facility for startups and provide them with sequencing equipment, $100,000 for such things as chemical reagents, and coaching on how to start and run their businesses. Milner and Silicon Valley Bank will lend financial support as well.
"When you look at the number of academic ideas out there and the size of investment available through venture capitalists, there is a big gap," says Mostafa Ronaghi, the chief technology officer at Illumina. "This is especially true in genomics, where it's more difficult for the companies to get started."
Illumina, of course, wants to sell more sequencing machines, and needs startups to come up with novel ideas to create more demand for its products. Getting young companies going on its equipment helps, too, since startups are more likely to remain loyal to Illumina's gear. But we're talking about a pretty small-scale accelerator operation. Illumina says it will aid about three companies every six months. So perhaps this is more goodwill than anything else.
As for Milner, he's been turning more and more to biotech and life sciences and away from the consumer Web companies that made him so rich. He's funding a sort science version of the Oscars and also a number of young biotech companies. He and Illumina's chief executive officer, Jay Flatley, are good chums.
The accelerator announcement comes on the heels of Illumina's release of a pair of lower-cost gene sequencers that garnered a great deal of attention in January.
Before it's here, it's on the Bloomberg Terminal.
LEARN MORE