Austrian Money Printer Paid Bribe for Contracts, Prosecutors Say
Alexander Weber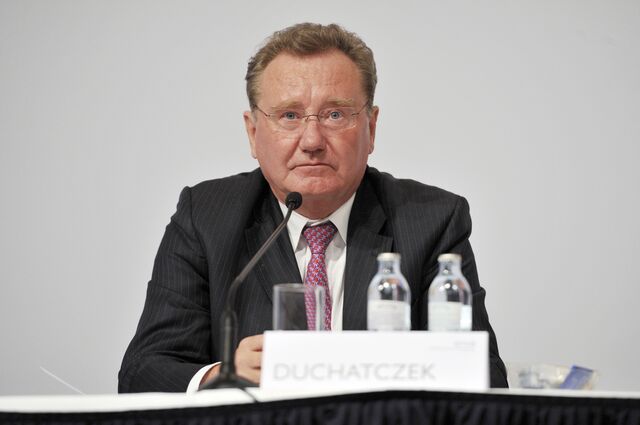 Former executives at the Austrian central bank's banknote-printing unit paid bribes to get contracts from the Azeri and Syrian national banks, prosecutors said on the first day of trial in Vienna.
Nine people were charged last year in a conspiracy to pay at least 14 million euros ($19 million) in bribes to Azeri and Syrian officials. Austrian executives including Wolfgang Duchatczek, the former vice-governor of Austria's central bank, agreed to overcharge the foreign national banks by as much as 20 percent and transfer the money back to Azerbaijan and Syria, prosecutor Volkert Sackmann said today.
"It's the Azeri people who had to pay, which is why we're dealing with breach of trust," Sackmann said.
The trial follows an 18-month investigation into Oesterreichische Banknoten- und Sicherheitsdruck GmbH, or OeBS, the printing press owned by the central bank, and Muenze Oesterreich AG, the country's mint. Authorities arrested four people in November 2011 after the kickbacks were discovered. The Austrian press has been printing money since 1816 and has produced bills for African, Asian and Latin American countries.
The trial isn't the only global investigation into bribes in the normally staid world of currency printing. Australia's Securency International Plc, a state-backed venture formed to export plastic polymer bills, is at the center of a probe into alleged kickbacks to officials in Malaysia, Indonesia, Nepal, and Vietnam. A court in Melbourne will decide whether there is enough evidence to charge eight employees.
Commissions
The highest-ranking official in the Austrian case, Duchatczek, thought the payments were commissions and didn't realize that they may have been used to conceal bribes, his lawyer, Herbert Eichenseder, told the court.
Manfred Ainedter, a lawyer for former OeBS managing director Michael Wolf, said his client won't deny his responsibility. "Bribes were paid, and Mr. Wolf admits that."
The Austrian central bank is seeking 100,000 euros in compensation for reputational damage from two of the defendants, its lawyer, Irene Welser, said. The central bank has been approached by lenders such as the Royal Bank of Canada, which sought information about the scandal, she said.
Duchatczek, 64, chaired the supervisory board of OeBS when the alleged crimes were committed. He took up the role along with new executives after the previous management ran up losses with a contract in Singapore that went awry.
One defendant was ordered to find new business opportunities and heard that Azerbaijan's contract with U.K.'s De La Rue Plc was running out, Sackmann said. After creating interest with Azeri officials, she didn't win the contract until promising to add an extra 20 percent of the total volume to the bill and pass this on to the officials, he said.
Austrian authorities became suspicious of the Azeri and Syrian contracts when auditors in 2011 found payments to offshore companies without evidence of services in return.
Judge Georg Olschak has scheduled 17 hearings through April for the trial.
Before it's here, it's on the Bloomberg Terminal.
LEARN MORE