Venezuela Opposition's Lopez Says He's Willing to Face Arrest
Corina Pons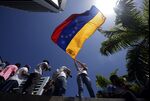 Leopoldo Lopez, the leader of the Venezuelan opposition party Voluntad Popular, said he'll lead a march on Feb. 18 and possibly face arrest if Venezuela's government follows through on threats to jail him.
"I've not committed any crime," Lopez said in a YouTube video posted on his Twitter account today. "If there is a decision to illegally jail me, I'll be there."
Lopez, who President Nicolas Maduro accused of instigating violence that led to the death of three people in protests on Feb. 12, asked supporters to dress in white and march with him to the Interior Ministry in Caracas where he said he'll enter alone and present four petitions.
Groups of opposition students marched in anti-government demonstrations in Venezuela's capital for a fifth day today, as Maduro said he wouldn't resign. Tear gas and pellets shot by national police around the Plaza Altamira this weekend left around 40 people injured and more with breathing difficulties, Ramon Muchacho, mayor of Chacao municipality, said in posts on his Twitter account.
National Assembly president Diosdado Cabello said yesterday that Venezuela's government issued an arrest warrant for Lopez, who has maintained his innocence and said he only called for peaceful protests. Military officials visited Lopez's house in Caracas, and the residence of his parents, yesterday and showed a warrant that included the charge of intentional homicide, Voluntad Popular said today in a statement.
Lopez said today that he would take petitions to the Interior Ministry that declare the government responsible for the Feb. 12 violence, ask for the release of students currently being held and ask for the disarmament of pro-government groups known as collectives.
"I'll be there to show my face," Lopez said. "I invite you to walk with me to a certain point, and from there I'll go alone to deliver the petitions."
Maduro Responds
Opposition lawmaker Maria Corina Machado said today in an e-mailed statement that students would march to downtown Caracas tomorrow.
Maduro banned street demonstrations, threatened media and ordered the arrest of opposition politicians after three people died Feb. 12 in clashes between protesters and government supporters. Since taking office in April, he has struggled to boost growth and rein in the world's fastest inflation in a country with the world's biggest oil reserves.
"I'm not going to step down," Maduro said yesterday at a pro-government march in Caracas. "No one will remove me from the path of building the Bolivarian revolution."
Maduro, who has accused opposition factions of trying to incite a coup, said he ordered the closing of three metro stations and suspended bus service in the eastern part of Caracas where students have been protesting. He said today in a post on his Twitter account that he would make economic announcements tomorrow on "investment, savings and the strengthening of the currency system."
"I'm also evaluating actions to defeat the fascist coup that started this week," Maduro said.
Violence
Opposition Governor Henrique Capriles, who lost to Maduro in the April election, spoke today at a news conference in Caracas and accused the government of being behind violence in the protests and said he would lead a new march.
"After several days it's obvious that students aren't with the violence," Capriles said. The government is infiltrating the peaceful protests "to convert them into centers of violence and suppression," Capriles said.
The government is using violence to "hide the grave problems that the country is facing with the scarcity of food, medicine, the inflation, devaluation and insecurity," Capriles said.
U.S. Secretary of State John Kerry said in a statement yesterday that his government is "deeply concerned by rising tensions and violence surrounding" protests in Venezuela.
"We are particularly alarmed by reports that the Venezuelan government has arrested or detained scores of anti-government protesters and issued an arrest warrant for opposition leader Leopoldo Lopez," Kerry said. "These actions have a chilling effect on citizens' rights to express their grievances peacefully."
The public prosecutor said yesterday in an e-mailed statement that 13 of 99 people who were detained over violent events Feb. 12 and Feb. 13 will remain in prison after judges ruled that their actions were "severe." Student protesters are demanding the release of all those detained.
Maduro has accused international news outlets of bias. He took Colombian station NTN24 off the air in Venezuela for covering the protests and in a national address Feb. 13 criticized Agence France-Presse for "manipulating information."
Inflation more than doubled in Venezuela in the past year to 56.3 percent in January, according to the central bank. At the same time, the central bank's scarcity index rose to a record 28 percent, meaning that more than one in four basic goods was out of stock at any given time.
Before it's here, it's on the Bloomberg Terminal.
LEARN MORE