Flooded Thames Seen Rising Again Along Commuter Belt
Alex Morales and Whitney McFerron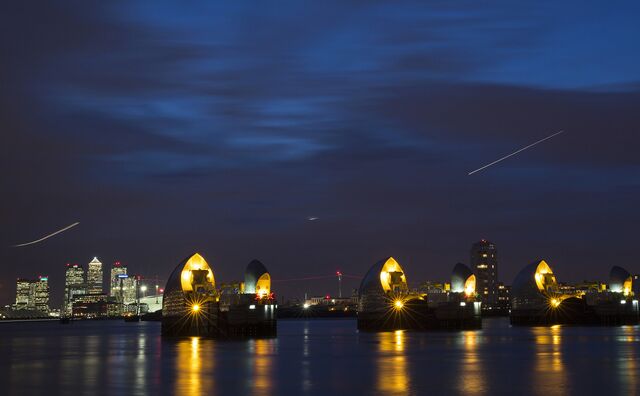 Flood waters on the Thames River are predicted to rise again in commuter towns west of London as recent rains filter downstream.
After a brief respite last week, the river may swell as water from downpours on Feb. 14-15 reaches areas already inundated by record winter rainfall, the U.K. Environment Agency said on its website. "Levels on the Thames are expected to rise again over the next five days," according to the agency, which is charged with flood defense.
Britain is reeling from a series of storms since December that saturated the ground, overwhelmed rivers across the south and battered the coasts. While floods along the Thames and in Somerset, southwest England, may have peaked, waters could take weeks to drain in some areas, the Environment Agency said.
The agency today had 16 severe flood warnings in place, indicating a danger to life. Fourteen of those are along the Thames west of London, and the other two are in Somerset, where some villages have been cut off since before Christmas. A further 118 flood warnings were in place, and 169 flood alerts.
"From late Wednesday into Thursday, areas which have already flooded may flood again up to, but not over, the levels already experienced," the Royal Borough of Windsor and Maidenhead, which includes some of the worst-affected commuter towns, said in a statement today on its website.
Unsettled Outlook
The U.K.'s Met Office has said the outlook for this week is "unsettled." While the forecaster has predicted less extreme downpours and winds, it maintains a yellow rain warning, the third-highest level, for southwest England, including southern Somerset. It said as much as 2.5 centimeters (1 inch) may fall.
"This is not expected to be as prolonged or as heavy as the rain last week but, given the saturated ground, the public should be aware that this still has the potential either to lead to localized flooding or to exacerbate existing issues," the Met Office said today on its website.
The Thames Barrier, a flood defense downstream from central London, was closed yesterday for a record 18th consecutive time to reduce the risk to the capital from tidal surges, according to a statement from the Environment Agency. Parts of the river last week reached their highest levels in more than 60 years.
More than 3,000 military personnel have been deployed to assist in flood-affected areas, and a further 5,000 are standing by, Defense Secretary Philip Hammond told the British Broadcasting Corp.'s "The Andrew Marr Show" yesterday.
Flood Tourism
Sunny weather yesterday brought flood "tourists" to the Thames, leading to complaints from residents that waves created by vehicles moving at speed through flood waters were entering their properties, according to Surrey Police.
"We have had reports that people are visiting flood-hit areas specifically to drive their vehicles through the floods," Assistant Chief Constable Gavin Stephens said in a statement. "Flood tourism is not helpful -- if there is no reason to drive through water then please stay away."
The cost of the flooding is approaching 600 million pounds ($1 billion), with damage to roads and infrastructure probably costing the country "several hundred million," Ernst & Young said yesterday.
Prime Minister David Cameron today announced a 10 million-pound support program for affected businesses. That's on top of a Feb. 12 pledge to make 10 million pounds available for farmers to repair damage and install flood-prevention measures.
"The government is taking action across the board to deal with the clearup and help hard-working people affected by the floods," Cameron said today in an e-mailed statement. "Dealing with these floods will be a long haul, requiring a stepped-up national effort."
Before it's here, it's on the Bloomberg Terminal.
LEARN MORE