Syrian Peace Talks End Without Agreement on Date of Next Round
Deema Almashabi and Donna Abu-Nasr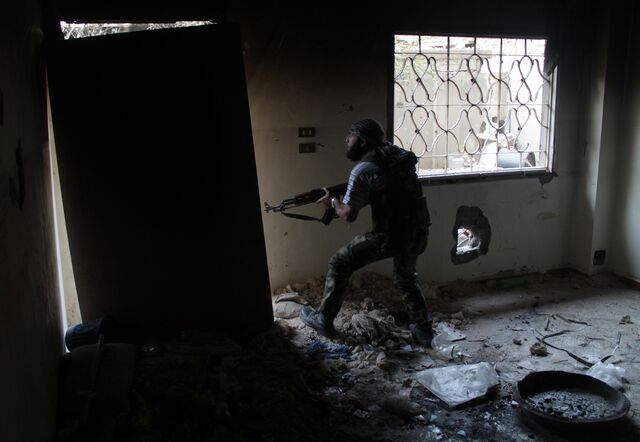 Syrian government and opposition representatives ended a second round of peace talks without agreeing on a date for the next meeting, United Nations mediator Lakhdar Brahimi said.
Negotiations ended after the President Bashar al-Assad's regime refused to discuss a transitional government with an opposition delegation, Brahimi told reporters today. The talks began on Jan. 24 under UN mediation.
"I apologize to the Syrian people that on these two rounds, we haven't helped them much," Brahimi said.
Discussions in Geneva have stalled over an agenda to end the three-year war that's killed more than 130,000 people. The government insists on tackling terrorism -- its term for the opposition -- while the rebels want to focus on a transitional government to replace Assad. Brahimi said Assad's envoys refused to discuss a transitional government.
The failure to agree on an agenda for future rounds of talks is a "serious setback in the search for peace in Syria," British Foreign Secretary William Hague said in a statement.
U.S. President Barack Obama has asked for a fresh review of U.S. options toward Syria as the peace talks have stalled and suffering intensifies, Secretary of State John Kerry said yesterday. Earlier this week, Obama said the U.S. isn't moving closer to taking military action, an option he withdrew in September in exchange for an agreement engineered by Russia, an Assad ally, for the regime to surrender its chemical weapons arsenal.
Military Solution
While Obama said on Feb. 11 that he reserves the right to use military force, he also said, "Right now we don't think that there's a military solution, per se, to the problem."
Instead, the U.S. is supporting action at the UN Security Council, where its Western and Arab allies circulated a draft resolution on Feb. 11 demanding that civilians be allowed to leave besieged areas. It also called on Syrian authorities to allow humanitarian access to people in need across conflict lines and from neighboring countries, particularly Turkey and Iraq.
The draft raised the prospect that the Security Council may introduce economic and military sanctions if the resolution's demands weren't met within 15 days of adoption.
Russian Role
Russia, which since March 2011 has three times vetoed resolutions on the humanitarian crisis in Syria, rejected the document as unworkable, and on Feb. 12 introduced its own text, according to a New York-based UN diplomat, who asked not to be identified commenting on sensitive negotiations.
UN humanitarian chief Valerie Amos has repeatedly expressed frustration, and on Feb. 13 made her latest bid to the council to do more to help quell the suffering, which has left more than 9.6 million Syrians in need of urgent aid and forced more than 2.4 million to flee their homes.
Before it's here, it's on the Bloomberg Terminal.
LEARN MORE