Why Is Jos. A. Bank Buying Eddie Bauer?
by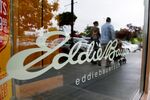 Do you need a fleece with that suit?
Jos A. Bank has finally struck a deal to buy another apparel company—Eddie Bauer—after taking a few runs at Men's Wearhouse.
Bank will pay Eddie Bauer's private equity owner, Golden Gate Capital, $564 million in cash and another $261 million in stock. It's a nice deal for Golden Gate, which bought Eddie Bauer in 2009 for $614 million in cash and debt. Whether the purchase makes much sense for Jos A. Bank, however, is debatable. So let's debate it.
In the long run, Eddie Bauer gives Bank a whole new category of clothes—a wide range of casual, sporty garments and gear, from sleeping bags to hiking socks. Demographically, the companies' customers are similar; this creates entry into a different part of their closet. It's the retail equivalent of a fried chicken empire throwing in with a chain of taco huts.
And Eddie Bauer isn't so shabby anymore. It has burnished its brand over the past few years by reminding customers that it has been around for almost 100 years. Before it became a lower-cost North Face alternative, Eddie Bauer virtually invented the down coat in the 1930s, patented the badminton birdie, and outfitted World War II bomber pilots. Now it has a line of technical gear called First Ascent, "created with some of the best mountain and ski guides in the world." It also has a line dubbed Sport Shop stocked with Burberry-esque outerwear that would not look out of place at a fancy upland bird club. This is the kind of brand cachet that's hard to build without some history (and even harder to value).
But in the more immediate future, cost savings, the rationale for any merger, might be difficult to come by. The combined companies may squeeze some efficiency out of their collective supply chain and the odd bulk fabric purchase, but the product lines are about as separate as two apparel brands can be. Fleece and down have little to do with super 120s wool and fitted dress shirts.
Meanwhile, both brands aim squarely for the midrange consumer, which is a shrinking market. The sweeter spots in retail are on the high and low ends. Columbia Business School professor Rita McGrath says we're living in an "hourglass economy," in which dollar stores and opulent Italian fashion houses thrive and stores like J.C. Penney die.
Savvy executives hedge their bets, building a wide range of offerings to stretch out the so-called lifetime of a consumer. When Old Navy customers move up in the world, they start shopping at Gap and eventually Banana Republic—or so the theory goes. Volkswagen trades its Jetta buyer up to its Audi brand and maybe even to Porsche, eventually.
Eddie Bauer may fit Jos. A. Bank just fine, but Brooks Brothers, or even Suit Supply, would have made a more handsome husband.
Before it's here, it's on the Bloomberg Terminal.
LEARN MORE