Rafael Nadal Says He's Confounded Critics With 'Long Career'
Tariq Panja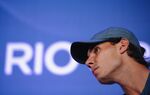 Top-ranked tennis player Rafael Nadal says he's already proven wrong critics who said his physical style would mean a short career.
The 27-year-old, who has struggled with injuries in recent seasons, was hampered by back problems in his last official match, the final of the Australian Open which he lost to Switzerland's Stanislas Wawrinka last month. The Spaniard is making his return at next week's inaugural Rio de Janeiro Open.
"I don't know for how long I'm going to keep playing tennis competitively," Nadal, who started as a professional at 16 and has won 13 Grand Slam titles, told reporters in Rio today.
"I heard lot of times in my career that I will have shorter career because of the style of my game," he added. "I really think it's something that will not happen. If I stop today at least I would have more than 11 years on tour. That's a very long career."
Nadal has missed chunks of the past few seasons through injury. His biggest battle has been with his knees, where he's suffered from a partially torn tendon and inflammation.
Nadal hasn't played since his four-set loss to Wawrinka in Australia. He said he hurt his back in the warm-up before the final, and it was getting "worse and worse" until it became "completely blocked."
Prize Money
Nadal's rivalry with record 17-time Grand Slam winner Roger Federer has been one of the greatest in tennis history. The Swiss player, 32, says he has no plans to retire, even though he's fallen to No. 8 in the rankings.
Nadal said he'll also keep playing until he can no longer compete for the sport's biggest prizes.
"I cannot predict the future, for how long I will be here competing well, having chances to compete for the best tournaments," said Nadal, who has won $66 million in career prize money.
"I cannot say when that's going to end but the only thing I can say is today I feel happy about what I'm doing, I feel with motivation mentally to keep playing, to keep competing well," he said.
Before it's here, it's on the Bloomberg Terminal.
LEARN MORE