business
Jawbone Won't Use Its New Cash for a Smartwatch
By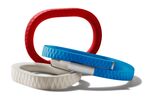 Jawbone is reportedly raising a big chunk of money: A $300 million funding round values the company at $3 billion, according to my colleagues at Bloomberg News, in news first reported Thursday by Re/Code. So what are executives going to do with it?
Wired floated the idea that the company might be interested in using the funding to build a "more substantial gadget for your wrist," and with the will-they-or-won't-they speculation about an Apple watch, it's not an unreasonable speculation. Except for this: In an interview before the funding news broke, Travis Bogard, the vice president of product management and strategy at Jawbone, scoffed at smartwatches, saying that the company wanted to leave smartphone functions to phones.
This seems consistent with what the company has done so far. Nike's FuelBand has always functioned as a watch, Fitbit's latest wristbands have added a small screen, and other companies have packed as many features as possible into wrist-based computers. Jawbone, meanwhile, has kept its UP fitness bracelets simple in terms of both design and function. "Some people are not keeping it narrow enough," says Bogard. "I think it's a real problem with wearable computing, where you say, 'Hey, we can fit it in, so let's fit it in.'"
Instead of trying to create devices that can tackle an increasing array of complicated tasks, Bogard says the promise of Internet-connected devices is to make simple products tied together by sophisticated software. Its Bluetooth speakers and headsets are also marked by extreme simplicity in design. But the company is trying to deepen what happens on the software side by working with developers to use data collected by the bracelets to build services that span a range of devices. One recent project involved combining Jawbone activity data with people's calendars and data from connected cars, leading to a prototype service that identified times and situations in which Jawbone users could fit in a little exercise and meet their daily activity goals. "Those are useful, interesting things," says Bogard.
Before it's here, it's on the Bloomberg Terminal.
LEARN MORE