Hanyu, 19, Is Second Youngest to Win Men's Figure Skating Gold
Erik Matuszewski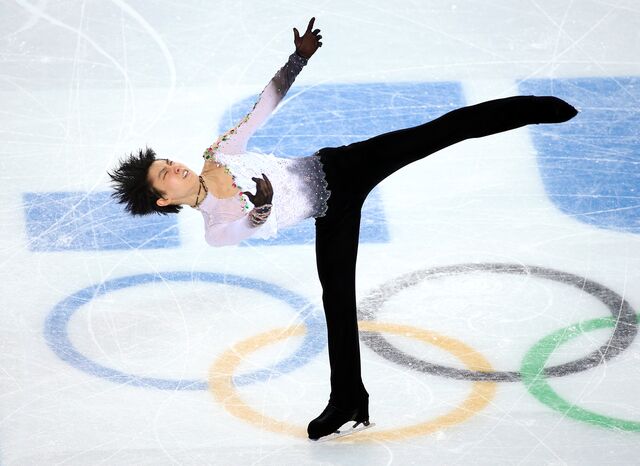 Yuzuru Hanyu overcame his nerves and a lack of sleep to become Japan's first Olympic gold medal winner in figure skating. The 19-year-old is also the second-youngest winner in the history of the men's competition behind Dick Button, who won in 1948 at the age of 18.
A day after posting a world record score in the event's opening short program, Hanyu fell twice in the opening 30 seconds of his free skate program yesterday in Sochi before recovering to finish with 280.09 total points. Canada's Patrick Chan took the silver medal with a score of 275.62 and Kazakhstan's Denis Ten earned the bronze with 255.10 points.
"I was beyond nervous," Hanyu told reporters. "I couldn't sleep at all and I didn't feel well physically. I was trying not to think about winning a gold medal, but I couldn't deflect the pressure, which was massive."
Hanyu skated his long program ahead of Chan, a three-time world champion, and said he was "shocked" by the result, which again denied Canada its first men's figure skating gold. It was the first gold medal of the Sochi Games for Japan.
"The Olympics is so wild and unpredictable," said Hanyu, who scored 178.64 in the free skate program to 178.1 for Chan. "I've never been this nervous for a competition in my entire life. I'm upset with the performance I had, but I left everything I had out there."
Canadian Misses
Chan is the most recent Canadian man to fall short of an Olympic title in figure skating, joining Brian Orser and Elvis Stojko, both of whom were two-time silver medalists.
Ten delivered the first medal of the Games for Kazakhstan, with Spain's Javier Fernandez finishing fourth ahead of Japan's Tatsuki Machida and Daisuke Takahashi. Jason Brown of the U.S. placed ninth. Russia's Evgeni Plushenko, considered a potential medalist after winning the long program in the team event, withdrew from the competition ahead of the short program two days ago because of back pain, depriving the host nation of one of its most anticipated moments at the Sochi Olympics.
Before it's here, it's on the Bloomberg Terminal.
LEARN MORE