Comcast-Time Warner Cable's Jolt to Big Media
By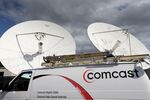 When Time Warner and AOL announced the consummation of their private courtship in 2000, cable pioneer Ted Turner enthused that the deal felt "better than sex." That marriage was so ill-fated, it turns out, that a male praying mantis might have exclaimed the same.
Fourteen years later, just in time for Valentine's Day, Comcast, the country's top cable company, agreed to acquire the No. 2, Time Warner Cable (unceremoniously ditched by its old parent a while back), for a bit more than $45 billion in stock.
Past as future: The breathless turn-of-the-century thinking that joined Time Warner's fat pipes with AOL's content could well be making a comeback. Taking out Time Warner Cable gets NBC Universal parent Comcast as many as 11 million residential subscribers, particularly in such coveted markets as Manhattan and Los Angeles. It wins prized regional pro sports assets, the better to make NBC Sports (once a backwater known as OLN and Versus) a competitive foil to carriage-fee shakedown artist ESPN, which is owned by Disney. Indeed, Comcast itself tried to buy Disney a decade ago.
"There's this reversion to the idea of combining the content with the pipe," says Darren Chervitz, director of research at Jacob Asset Management in New York. "A lot of people thought there'd be more tentacles into the home by now. But cable's won out. And now it's about building an arsenal to take on ESPN and Netflix."
The Comcast acquisition values Time Warner Cable at about $69 billion, including net debt. The Philadelphia-based media conglomerate, which got its start in Tupelo, Miss., in 1963, has digested $66 billion of acquisitions over the past 10 years. A combined Comcast-Time Warner Cable would lord over nearly three-quarters of the cable industry.
Now the content-heavy likes of Disney, 21st Century Fox, CBS, Viacom, and Time Warner have to face the specter of Comcast (Kabletown in the show 30 Rock) being in 19 of the 20 largest television markets, an outsize presence that would give it more bargaining clout. Distribution kingpins such as Cox Communications, Cablevision Systems, Charter Communications, Verizon FiOS, and DirecTV similarly must assess how competitive they will be if more aggressive convergence becomes the order of the day. "Whether or not Comcast-Time Warner Cable is ultimately the right move," says Chervitz, "the fear alone about relative negotiating power could drive similar deals."
How, for example, is Rupert Murdoch feeling about calling DirecTV a "turd bird" when his News Corp. owned 38 percent of the satellite broadcaster in 2006? Seller's remorse? Or is satellite TV uncompetitive in a triple-play world dominated by the cable companies and Verizon?
Charter, Time Warner Cable's longtime suitor, may now have to roll up smaller cable companies, writes JPMorgan Chase analyst Philip Cusick. Charter is backed by John Malone's Liberty Media, which has tossed a veritable salad of content and distribution assets.
CNBC's David Faber Tweeted that Cablevision last year approached Time Warner Cable to shack up; the latter said the asking price was too high. Until recently, Cablevision owned AMC Networks, home to Breaking Bad and Mad Men.
As for Time Warner (the content giant shorn of cable and forever lamenting its AOL ordeal): is it time to get back into the capital-intensive business of pipes? It now has its hands full shedding its magazines.
Don't forget about the wild card that is Google, now the No. 2 most valuable company in the land. To what extent will it ramp up and/or form a joint venture for its ballyhooed Fiber rollout? That threat, for example, has been keeping AT&T on its toes in what would otherwise be a natural, lazy cable monopoly in Austin, Tex.
Speaking of AT&T, that company disastrously rolled up cable companies in a $100 billion-plus binge during the tech bubble. Those assets went to Comcast on the cheap when Ma Bell realized it could ill afford the debt load that came with being Ma Cable.
Comcast, for its part, is so confident of the immediate profitability of taking out Time Warner Cable that it says it will buy back $10 billion of its stock when the deal closes.
Before it's here, it's on the Bloomberg Terminal.
LEARN MORE