Why Celebrities Spend So Much Time Tweeting About Startups
by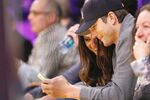 Remember when celebrity angel investors seemed like a novel phenomenon? These days almost everywhere you look, particularly on social media networks, there's a famous actor, musician, or athlete touting a new startup as the next big thing.
The roster of celebrity tech investors has included Lady Gaga, MC Hammer, Ashton Kutcher, Justin Bieber, Ryan Seacrest, Selena Gomez, Leonardo DiCaprio, Kim Kardashian, Bono, Justin Timberlake, Lance Armstrong, Dr. Dre, Kanye West, and others. New York magazine recently revealed that even Tucker Max—the poet laureate of American frat house roguery—is getting in on the act.
Why the stampede? One underappreciated reason is that in recent years, a great number of such deals have evolved into something new: an endorsement-investment arrangement that serves as a matchmaker between a celebrity with a big social media following and a startup looking to establish brand recognition and credibility.
Alan Hock, a partner at the law firm Moritt Hock & Hamroff who specializes in endorsement contracts for entertainers (his clients include 50 Cent and Carmelo Anthony), says the market has changed dramatically over the past several years. "Historically, the typical deal was a royalty arrangement where the company would pay cash, usually in the form of some upfront guarantee, and then some percentage of sales on a product," Hock says. "Most of the deals that I see now involve a meaningful component of equity."
Almost all of the celebrity endorsement deals now, according to Hock, require a significant social media output on the part of the entertainer. We are, as a result, living in a golden age of famous people tweeting for startup equity.
To be sure, there's nothing particularly new about endorsement deals that include an ownership stake for the celebrity (witness the gilded history of the George Foreman Grill). But once upon a time, Hock says, those kinds of arrangements were the exception—now they are the rule.
Hock says many of his cash-rich clients not only want equity as payment for their endorsement services, but they also want the opportunity to invest some of their own money in the company on the side. Such deals, says Hock, typically lend themselves to a longer relationship between a company and its endorser. Thus, celebrities now often negotiate to get their team a managerial role with the company they are hyping. "With my high-profile clients, we insist on a board seat," says Hock.
So what's driving the change in endorsement strategy?
Part of it, no doubt, is simply a reflection of the frenzied interest in startup investing that's gripping the country. Like everyone else, celebrities are now hyperaware of just how many billions of dollars an early stake in, say, Facebook, could be worth down the road. Hock believes the change is also a reflection of a more gradual shift in the culture of entertainers. "The musicians are all interested in becoming entrepreneurs now," he says. "They see what Jay-Z did. They see what 50 Cent has done. That's very attractive."
And at the same time, celebrity managers and handlers often like startup endorsement-investment arrangements for another reason. "In a way, it's also a kind of forced savings," Hock says. "Celebrities are notorious for having entourages and many houses. You get a lot of money; you spend a lot of money, too. With the equity, you might have to wait a number of years before it becomes valuable. And in the meantime, they can't spend it."
Before it's here, it's on the Bloomberg Terminal.
LEARN MORE