Ukraine's Protesters May Soon Gain Power—and Regret It
By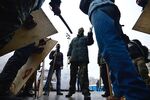 Foes of Ukrainian President Viktor Yanukovych appear ready to move off the streets and into the halls of power. Two key opposition leaders, Oleksandr Turchynov and Arseniy Yatsenyuk, said today that they're prepared to accept Yanukovych's offer to form a new government, on condition that the constitution is amended to limit presidential power.
That would defuse the crisis that's gripped Ukraine since November, when Yanukovych spurned a trade agreement with Europe in favor of a Russian aid package. But it's now clear that an opposition-led government won't get much financial help from the West unless it agrees to a painful economic overhaul.
In a briefing in Kiev today, European Union Enlargement Commissioner Stefan Füle said that any aid would be accompanied by a demand for "reforms, reforms, reforms," with the International Monetary Fund playing a "central" role in setting the terms. Ukraine previously walked away from a potential IMF bailout after the fund conditioned the aid on measures that would hit ordinary Ukrainians hard, including a steep hike in energy prices and reduced spending on social programs.
A few weeks ago, some EU leaders signaled they might agree to more lenient terms. Now "it seems that after all, those harsh preconditions will be attached," says Lilit Gevorgyan, an analyst at IHS in London
The IMF doesn't want to be seen as bending the rules for political reasons, Gevorgyan says. And potential creditors are worried about handing over aid without strict controls. "They're concerned about disunity within the opposition, the rise of a nationalist element, and whether the mainstream opposition has control over it," she says.
This puts opposition leaders in a bind. If they form a government, they'll have to either impose economic pain on their countrymen or stick with the $15 billion Russian aid package that they've been demonstrating against. Either choice would hurt their chances of winning the presidency in the 2015 elections.
Another option—remaining out in the streets—looks less and less viable. The country's currency reserves are dwindling fast, and its borrowing costs are soaring.
Russia and the EU are getting impatient. Russia has suspended payment of its aid pending resolution of the crisis. And Foreign Minister Radosław Sikorski of Poland, a country that's been pushing for EU aid to Ukraine, told the Financial Times today that the protesters should compromise with Yanukovych. "Ukraninan politicians' consistent failure to fix their economy," Gevorgyan says, "has limited their bargaining power."
Before it's here, it's on the Bloomberg Terminal.
LEARN MORE