Satellite Imaging Startups Skybox, Planet Labs Race to Cover Earth
Small-satellite startups aim to cover the action on earth 24/7
by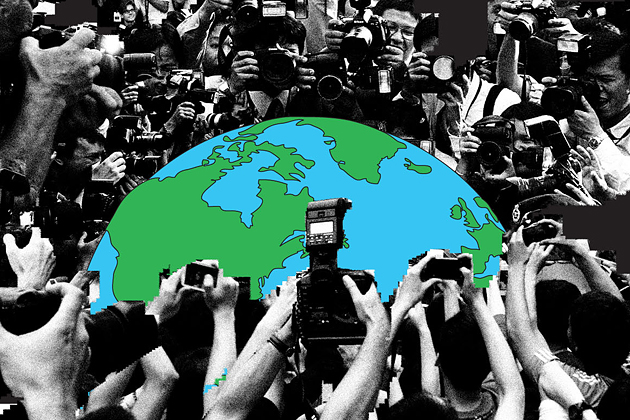 Commercial satellite imaging is dominated by two big players, DigitalGlobe and Airbus Defence & Space (ADS). Each uses a handful of orbiting satellites to build photo archives and charges such customers as Google, Microsoft, and government agencies for the pictures. Clients can also pay extra for newer images of specific locales. These setups are impressive but don't quite operate at Internet speed. Most satellite images on Google Maps and Google Earth are one to three years old.
The next step is something more like a Google for Earth: a search engine where people can find satellite photos taken in real or near-real time that answer questions like "How many ships are in the Port of Houston today?" or "How much corn is currently growing in Iowa?" That would be of real value to oil exploration companies, day traders, and others with the tools to analyze the data. To pull this off, a company would need to build a network of satellites dense enough to capture a picture of the whole earth, sort of like a scanner encircling the planet. Skybox Imaging and Planet Labs are the two startups closing in on that business, capitalizing on improvements in electronics and computing that allow them to make their compact, powerful satellites reliable and relatively cheap.
Instead of a few of the truck-size, nine-figure satellites the big companies use, the startups are building dozens of satellites that cost from hundreds of thousands to a few million dollars each. "You want to get the day-in and day-out trends," says Dan Berkenstock, co-founder and chief product officer of Skybox. "We want to give corporations the same capabilities that traditionally only governments have had."
Skybox's buildings in Mountain View, Calif., include a workshop where its mini fridge-size satellites are built from scratch, with machines for bending the metal and ovens to test the electronics' heat resistance. In another room, dozens of software engineers work on code to run and track the satellites. There's even a mission control area, where rows of Macs sit in front of large screens to monitor launches. Like Planet Labs, Skybox hitches rides on rockets with its satellites designated as secondary payloads, at a cost ranging from about $300,000 to $4 million per satellite.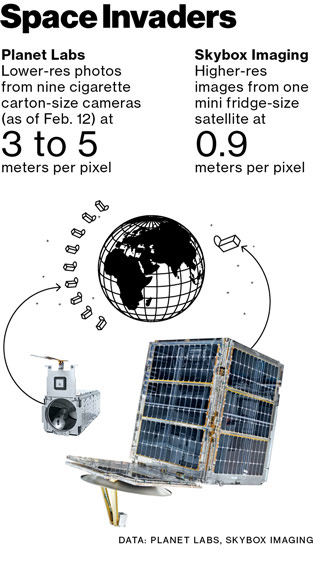 Five-year-old Skybox has raised $91 million in funding. Berkenstock says the company has close to 10 paying customers that use his service to monitor borders, commodity shipments, and power plant exhaust. Online mapping companies such as Google are expected to start using Skybox images for parts of their services soon.
The Planet Labs headquarters, in an office building in the heart of San Francisco, feels more like a mix of chaotic college dorm rooms and a tinker's garage. The three co-founders, who used to make tiny satellites called CubeSats at the nearby NASA Ames Research Center, set up a makeshift cleanroom where workers assemble the hardware. Software developers sit at Ikea tables pushed together in the center of the next room, which lacks land lines and other typical office gear.
In terms of real-time coverage, though, three-year-old Planet Labs, which has raised $65 million in funding, has an edge. It already has several satellites in orbit, while Skybox has only one. In January, Planet sent 28 of its cigarette carton-size devices on a flight to the International Space Station, and on Feb. 11 it started pushing them into orbit two at a time. Once they're operational, Planet will have the largest set of orbiting commercial imaging systems out there. Co-founder and Chief Executive Officer Will Marshall says his current fleet can take weekly photos of the entire planet at a resolution of about 3 to 5 meters per pixel. He's pitching agriculture businesses on buying access to the service to help predict the best times to plant and harvest crops.
Berkenstock of Skybox, also a former NASA researcher, says his company will have another satellite up in a couple of months and 15 by the end of 2016. Skybox started out making satellites comparable to the size of Planet's, he says, but decided after meetings with potential clients that a resolution less precise than 1 meter was a waste of time. "You want to get good enough imagery to see all the things that matter," says Berkenstock, adding that financial firms want to be able to count individual cars in retail parking lots to see how busy the stores are. Planet's Marshall says, "The higher-resolution stuff is not the whole story. We get to see all of the world's forest and agriculture regions."
Both startups say traditional imaging providers such as DigitalGlobe and ADS are slow, pricey, and antiquated. "We've brought space into the software domain, and that is an important transition," says Marshall, who wouldn't disclose pricing. Skybox says per image prices start in the hundreds of dollars, and annual charges for the most recent photos could run into the tens of millions.
DigitalGlobe, whose sixth satellite goes up this year, boasts ultraclear images with 50-centimeter resolution and says it can do even better. Founder and Chief Technical Officer Walter Scott says image quality is a function of bigger, better equipment, and his upstart rivals can't beat the laws of physics with software. "The emerging players are working on a different part of the problem," he says. "They are largely complementary, as opposed to competitive."
Brock Adam McCarty, who runs image reselling business Apollo Mapping, is also skeptical of the startups' business models. Few customers need pictures in less time than the few weeks it takes DigitalGlobe or ADS to supply them, he says. Skybox and Planet, by contrast, are just starting to field-test their telescope tech. "There is definitely a market for these startups, but I don't see them disrupting the economics of the entrenched players," McCarty says. "And I don't know if it's as large a market as they would like people to believe."
The startups say their advantage lies in moving fast and quickly adding functions to their satellite and data-analysis software. "The big satellites cost $1 billion, and the last thing you want to do is change them and send them into a spin," says Marshall. "If we lose one of ours, it's not that big of a deal."
Before it's here, it's on the Bloomberg Terminal.
LEARN MORE