Russian Standard Vodka's Billionaire Owner Takes on Diageo
The Russian Standard owner has added Polish brands to his stable
by and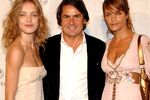 For years, Russian Standard has marketed its namesake product with the tagline "vodka as it should be." To the company's owner, billionaire Roustam Tariko, that long meant Russian, unflavored, and exclusive. But Tariko in recent years decided that focusing solely on a premium line has its limits. "Today, to compete with big giants like Diageo and Pernod Ricard, you really need to compete in every segment of the market," he says.
So since 2011 he's plunked down $1.1 billion in cash and assumed debt to gain control of Polish spirits maker Central European Distribution (CEDC), finally buying it out of bankruptcy last year. The deal gives Tariko's company Zubrówka, an herby Polish vodka flavored with bison grass, as well as the cheaper Green Mark vodka, a Russian brand that sells for about $15 a bottle in the U.S. The expanded portfolio catapults Tariko's operation over Absolut owner Pernod into the global No. 2 spot among vodka makers by volume, trailing only Diageo. Tariko is giving himself three years to top Diageo, which owns Smirnoff, Ketel One, and Cîroc.
Tariko, who built his fortune importing spirits made by Bacardi's Martini & Rossi unit into post-Communist Russia, started Russian Standard in 1998 in a bid to produce a high-end brand within the country. The company claims its flagship drink is distilled using glacial water from Russia's Ladoga Lake and winter grain—wheat planted in the autumn and grown under frost.
Helped by marketing that includes traveling groups of Miss Russia contestants, who promote the brand at bars and special events such as the U.K.'s Lovebox music festival, Russian Standard has grown an average 10 percent a year by volume in the past five years, vs. a 1 percent decline for the $49 billion vodka market, Sanford C. Bernstein estimates.
Toppling Diageo is another matter. The world's biggest spirits maker has overall revenue almost six times that of Russian Standard's annual sales of about $3 billion. "The likes of Pernod and Diageo are not businesses that easily cede their positions in any market or category," says Matt Woodhams, a director at marketing consultant Added Value. Tariko will have to invest in distribution, "which takes time and resources," Woodhams says. Pernod and Diageo declined to comment on Russian Standard's plans.
Digesting the new brands could be tough. "CEDC is currently very badly positioned—overexposed to the supercompetitive and shrinking central and eastern European vodka market and in the wrong segment, tough-value [inexpensive] vodka," says Jean-Marc Chow, a London-based drinks analyst. Tariko, who aims to dominate the market from "Germany to Vladivostok," says he intends to bolster CEDC brands by restoring a marketing budget that was slashed as the company collapsed.
Russian Standard is doing more to woo bars such as those owned by the U.K.'s Inception Group, which uses the brand as its house vodka. Bartenders who work at its Mr. Fogg's in London are sent to Russia for training, and the brand has financed Russian night events at the bar, supplying vodka and traditional dancers. Tariko says such brand authenticity will help win over consumers increasingly interested in the origin of their drinks. Also, roving bands of Miss Russia wannabes can't hurt.
Before it's here, it's on the Bloomberg Terminal.
LEARN MORE