Prada, LVMH Dismayed to Report China's Anti-Extravagance Efforts Are Working
by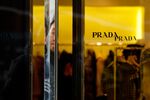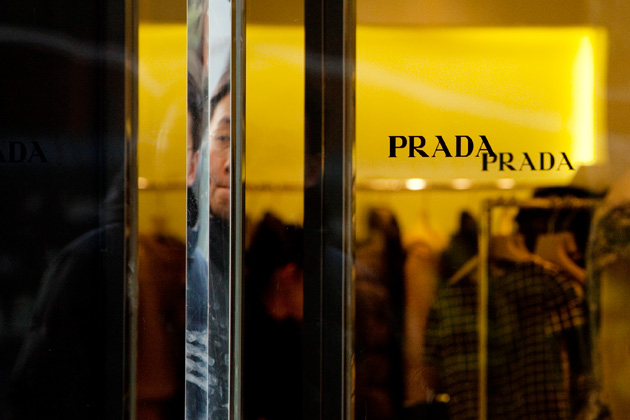 How important are China's nouveaux riches to Prada? The luxury goods maker is based in Milan, but its stock is traded in Hong Kong, part of the company's effort to boost its presence in Asia. No doubt Chinese consumers love the brand, with Prada today reporting sales of €826 million ($1.13 billion) in Greater China last year, a 15 percent increase from 2012. Prada's overall sales grew 9 percent, to €3.59 billion.
Not bad, but less than the €3.64 billion average of 29 analyst estimates compiled by Bloomberg, and Prada shares fell almost 5 percent in Hong Kong trading today. The miss is "likely to put pressure on the shares near-term," Citigroup analyst Thomas Chauvet wrote in a note to clients.
Unfortunately for Western luxe brands like Prada, the Chinese government probably hurts more than it helps. President Xi Jinping has been promoting a campaign to discourage extravagant spending. Initially he targeted officials for shelling out buckets of yuan on lavish banquets with fancy dishes and expensive alcohol, but he's since extended it to include other expenses such as over-the-top funerals.
Another target for Xi's crackdown is China's tourism industry. Business had boomed thanks to tour operators offering mainlanders discounted trips abroad. The operators would then try to make up for the discounts by taking their clients to big stores and getting commissions from the owners, according to a new report by Bloomberg Industries analysts Deborah Aitken and Maja Rakic. Now, in part because of Xi's campaign against conspicuous consumption, "tour operators have cited a clear decline in revenue," Aitken and Rakic write.
Some of Prada's rivals are feeling the impact, too. "China has taken a number of measures that were implemented during the course of the year, such that the consumption of luxury or rather high-end products has been slowed slightly," Bernard Arnault, chief executive officer of LVMH Moët Hennessy, told analysts on a Jan. 30 conference call.
Still, Arnault's deputy asserted on the same call that the people most affected by the crackdown weren't wealthy enough to be able to afford the company's products in the first place: Yes, the anti-extravagance campaign has reduced the number of Chinese visiting abroad, but "the people who travel less were people who were spending less anyway," said Antonio Belloni, LVMH's group managing director.
Domestic retailers appear to be suffering as well. Retail sales over the Chinese New Year increased 13.3 percent from a year earlier, the slowest growth in at least 10 years. Chinese New Year sales growth last year was 14.7 percent. The weeklong celebration of the Year of the Horse marked the third consecutive year of slowing retail sales during the holiday.
Before it's here, it's on the Bloomberg Terminal.
LEARN MORE