Panasonic Revives as Other Japanese Tech Giants Falter
Pulling away from smartphones and TV panels helps it stem losses
By , , and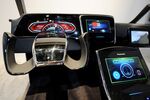 These are trying times for the men running Japan's electronics giants. Nintendo President Satoru Iwata is taking a 50 percent pay cut after the company forecast a surprise 25 billion-yen ($244 million) loss last month. Kazuo Hirai took the helm at Sony two years ago promising to stem a decade of losses at the television unit. On Feb. 6 the company announced it expects to lose $1.1 billion in the current fiscal year ending March 31.
Like many Japanese consumer electronics companies, Panasonic has tried to be all things to all customers, making everything from smartphones to solar panels. And like its domestic rivals, it faces competition from lower-cost manufacturers in South Korea and China. Panasonic lost a combined 1.5 trillion yen in the two years ended in March 2013.
Over the past year, however, Chief Executive Officer Kazuhiro Tsuga has engineered a revamp of the Osaka-based company. By getting out of such money-losing businesses and focusing on new ventures, Panasonic is pushing through "essential structural reforms," says Chief Financial Officer Hideaki Kawai. Tsuga has said that he plans to eliminate unprofitable divisions by March 2016.
The strategy is beginning to pay off. Operating profit at Panasonic's automotive and industrial systems unit, which makes batteries and car entertainment systems, jumped to 28.2 billion yen in the last quarter of 2013, compared with a loss of 800 million yen the year before. Earnings in the appliances unit increased 60 percent, to 9.8 billion yen, while profits for the company as a whole increased 20 percent in the quarter, to 73.7 billion yen—68 percent higher than analysts' estimates. "The company has been making significant progress in its business restructuring," Maki Hanatate, senior credit officer at ratings agency Moody's, wrote in a Feb. 6 report.

Tsuga has suspended production of panels for plasma TVs while trimming circuit board manufacturing and giving up on developing consumer smartphones. The goal is to reduce reliance on consumer electronics, where Panasonic has lagged behind Samsung Electronics and Apple. Instead, Tsuga is building partnerships with companies such as Tesla Motors, the electric-car maker that agreed in October to buy 2 billion battery cells from Panasonic over four years. In addition to making batteries for electric cars and car entertainment systems, Panasonic is focusing on auto safety devices such as cameras with 360-degree views. By 2019 the company plans to double revenue from auto-related products to 2 trillion yen.
One of Tsuga's biggest challenges is Panasonic's semiconductor operation, which has lost money for seven consecutive quarters. Panasonic is suffering because of the high cost of production in its home country. "It's really hard to compete in chips" against cheaper rivals in Taiwan and South Korea, says David Motozo Rubenstein, senior analyst and managing director with Advanced Research Japan in Tokyo. "So it's tough on both sides for the Japanese."
Last year, Panasonic moved to reduce its exposure in chips by merging two operations into joint ventures, one with Fujitsu and another with Israel's Tower Semiconductor. On Feb. 4, Panasonic said it would sell three semiconductor assembly plants in Southeast Asia to Singapore-based UTAC Manufacturing Services for $116.5 million.
For now, the company is sticking with LCD televisions and digital cameras—two parts of the business that have yet to be restructured. Still, compared with the problems at Sony, Panasonic is on the right track, Fitch Ratings analysts Shelley Jang, Kelvin Ho, and Steve Durose wrote in a Feb. 12 report. "Panasonic made earlier decisions than Sony to get out of unprofitable businesses," they said. The result is a "slimmer, nimbler organization [that] gives Panasonic the opportunity to continue its recovery."
Before it's here, it's on the Bloomberg Terminal.
LEARN MORE