Obama's Idea of Fixing the Post Office: Appoint a Kennedy
By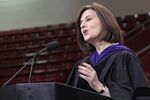 President Obama on Wednesday nominated Vicki Kennedy, widow of the late Senator Ted Kennedy, to the U.S. Postal Service's board of governors. Obama has had a close relationship with the Kennedys since Ted and his family members chose him over Hillary Clinton in the 2008 Democratic presidential primary. You could argue that the nomination is nothing short of political payoff, but good luck with that. Ambassador to France—now that's a payoff. But the postal board? You could just as easily argue it's more like a punishment.
It's unclear what special insights Obama thinks Vicki Kennedy will bring to help solving the Postal Service's many problems. But her nomination does tell us something about the president: He doesn't seem to care all that much about mail.
Kennedy is Obama's first appointment to the USPS board. It's supposed to have 10 appointed members, including the U.S. Postmaster General; currently it has only four. Until now, Obama hasn't bothered to fill the other slots. As the New Republic's David Dayen presciently noted this week, before Kennedy's nomination, "[Obama] has not successfully placed a single appointee on it during his entire tenure in office." The four existing members, he wrote, "were all appointed by George W. Bush." Remarkably, nobody in the press has pointed this out before. Kudos to Dayen for being the first.
Dayen goes on to posit that the preponderance of Republicans on the USPS board explains why Postmaster General Patrick Donahoe has been pursuing "a conservative governing ideology," seeking to cut services rather exploring proposals like putting banks in post offices, an idea beloved by liberal Democrats such as Senator Elizabeth Warren of Massachusetts. That's a bit of a leap. After all, many so-called liberal countries like Canada are dramatically reducing mail service, too. People just aren't sending as many letters as they once did.
Dayen's larger point is dead on, however: The vacant directorships indicate that Obama is disinterested in the travails of the USPS, which lost $5 billion last year. Congress has been grappling with postal reform. The White House has largely avoided talking about it. One of the few times Obama opened his mouth about the agency's troubles, he wasn't exactly sympathetic: "If you think about it, UPS and FedEx are doing just fine, right?" Obama joked in 2009. "It's the post office that's always having problems."
Obama has big issues to deal with: health-care reform, the Middle East. Meanwhile, the USPS continues to lose money, largely because it can't afford its annual $5 billion payment to the U.S. Treasury to fund the health care-benefits of its future retirees. There's probably no way to fix it without cutting jobs and raising prices, neither of which are popular with voters.
If nothing else, the timing of the Kennedy nomination strongly suggests that the White House has been reading the New Republic. Surely the president can find a few more supporters who'd welcome the job's $30,000 yearly stipend. The Kennedys are a large clan. Perhaps there's another member of the family with a keen interest in paper and stamps.
Before it's here, it's on the Bloomberg Terminal.
LEARN MORE