The Harsh Winter Has Been Bad for Florists, Good for Selling Animal Feed
By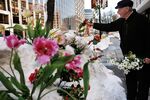 It's snowing in New York, again. In Georgia, utility companies have reported that more than 350,000 customers are without power. The severe winter affecting large swaths of the East Coast has been good for small business owners driving snowplows or selling winter boots, and potentially disastrous for the independent florists and chocolate shops that may see frigid Valentine's Day sales. (It's also lousy for the bike messenger delivering flowers through the slush.)
On the whole, the harsh winter has probably dampened small business sales, according to Holly Wade, a senior policy analyst at the National Federation of Independent Business. Last month's survey of NFIB members, most of whom employ fewer than 20 workers, showed "a disconnect between sales and sales expectations," says Wade. There has also been a gap between actual hiring and hiring expectations in the months to come. "The theory is that small business owners see pent-up demand because of the weather," she says.
Construction companies, which account for a large share of U.S. businesses with fewer than 100 workers, have probably been hit hard by the active winter. Retail sales (non-snow shovel division) have also been affected, according to the National Retail Federation. Beyond the obvious problem of customers staying home in bad weather, supply chains have also frozen in storms.
Eric Blackstone, who owns Gettysburg Agway, a Pennsylvania feed store and garden center, says he hasn't been able to keep rock salt in stock. Any business he's lost to supply shortages has been made up by unusually strong sales of animal feed and wood pellets used to heat homes, plus other winter gear. Winter weather has a way of evening out, at least for his business, Blackstone says. While he's had a hard time keeping salt on hand, he's also clearing out inventory that's been sitting around from milder seasons: "Some of the snow shovels I sold this year I've had for two years," he says.