Mark Cuban Wants You to Put Away Your Phone at NBA Games
By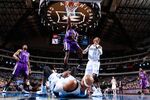 Vivek Ranadive, the newest owner in the NBA, thinks he knows what fans want from their mobile phones during games. They want to see stats, socialize with other fans, and order beer without getting up. "The future is about giving people an extremely contextual experience," says Ranadive, who led the group that purchased the Sacramento Kings last May for $534 million. "People love to play games and they love to participate." In short, they want more.
Mark Cuban, owner of the Dallas Mavericks, also thinks he knows what fans want from their phones during games: to put them away for a couple hours and be absorbed in something not on a screen. "No question people use their phones and devices at games," he writes in an e-mail, "but they use them when they are bored. They don't want more reasons to use them. They want fewer."
Ranadive and Cuban represent the two poles in a debate about how to keep fans coming to games when it's cheaper, easier, and maybe better to stay home and watch on a big-screen TV and Twitter. Both owners will be in New Orleans on Friday for NBA's annual All-Star weekend tech summit, along with Yahoo!'s Marissa Mayer, ESPN's John Skipper, and representatives from Twitter, Facebook, and Instagram. Living room versus live will no doubt be part of the conversation.
Ranadive made his fortune in data processing and analytics. His company, Tibco, helps businesses make sense of massive data streams. Casinos use it to anticipate when a gambler is about to get discouraged. Ranadive is using the same system to track and serve fans who use the Sacramento Kings' mobile app.
Ranadive wants to know what fans want even before they do. See an empty seat four rows ahead? Your phone just offered to upgrade you. Tweeting your love for Isaiah Thomas? Perhaps you would like to buy a Thomas jersey on sale. "If a fan has cold pizza, I know it," says Ranadive. The app also serves up stats, replays, and other information to accompany the game on the floor.
This is the techno-utopian view of the future. And Ranadive says it's inevitable: "Our kids will look at their phones 300 or 400 times a day, including at live events." Teams might as well try to be a part of all that tapping and swiping, and maybe make some money from it. Fans who don't want to be a part of it, he notes, can always leave their phones in their pockets.
Cuban, the godfather of tech entrepreneur owners in the NBA, says he used to be a mobile evangelist as well. "When I first got to the NBA in 2000, I felt the same way as Vivek does today," he writes. "Then I learned what our product really is and why people come to games." They come to participate, to high-five, yell, and hug strangers, according to Cuban. "It's tough to clap when you have a device in your hand," he writes.
When the NFL recently looked at stadium Wi-Fi users' habits, it found that most of the traffic comes at the beginning of games and most involves uploading photos and updates to Facebook. Fans barely touched teams' custom apps. This would seem to support Cuban's view. NFL fans want their friends to know they're at the game, and then they want to watch it. But Ranadive thinks these data say more about app quality than fan appetite.
The right app, he says, is not a distraction, but an enhancement. "I completely reject the notion that a fan looking at his mobile device is not an engaged fan," he says. "I want to know play-by-play, I want to know every metric." He looks forward, he jokes, to getting a picture of Cuban's mobile habits when the Mavericks next come to play the Kings.