Iraqi Growth Attracts Emerging-Market Investors
The Euphrates Iraq Fund's bets on Iraqi banks are paying off
by and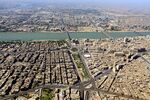 For Grant Felgenhauer, a money manager whose hedge fund owns $110 million of Iraqi equities, the 15 explosions that rocked the country on a single day in mid-January weren't a reason to stop buying. "The Iraq that is unfolding in Baghdad is not the Iraq you read about in the headlines," says Felgenhauer, a portfolio manager at Euphrates Iraq Fund.
Felgenhauer, who previously traded Russian stocks at Bill Browder's Hermitage Capital Management in Moscow, last year earned a return of 28 percent on his Iraq holdings, according to data compiled by Bloomberg, with bets on Bank of Baghdad, the country's biggest commercial lender, as well as Baghdad Soft Drinks and Al-Mamoura Co. for Real Estate Investment. That performance, compared with a 9.5 percent decline for Iraq's ISX General Index, helped make New York-based Euphrates the fourth-best-performing emerging-market fund managing more than $50 million in 2013, outpacing gains at far bigger rivals such as asset manager BlackRock.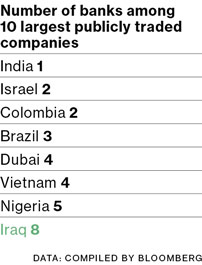 Iraq's economy is expected to expand 6.3 percent this year, up from 3.7 percent in 2013, the International Monetary Fund forecast in October. The Iraqi government estimates oil production will rise to 9 million barrels a day by 2020, compared with about 3.4 million a day in January. "No other country has this growth trajectory," says Felgenhauer, who spends a week in Baghdad every quarter. "The scale of the increase in oil production expected from Iraq has only happened twice in history: once in Saudi Arabia in the 1960s, and in Russia in the 1990s. Both episodes transformed the local banks and equity markets." The Iraq benchmark index has dropped just one point during the emerging-market selloff that began in January.
Bank stocks account for about half the Euphrates Iraq Fund, with Bank of Baghdad its biggest holding. The stock rose 13 percent in 2013. Fewer than one in five Iraqis has an account, and demand for credit is high, so prospects are comparatively bright for the local bank industry, Felgenhauer says. Lenders can charge as much as 13 percent interest on commercial loans and cater to only the most creditworthy manufacturers and construction companies. Net income at Iraq's five largest privately owned banks more than tripled from 2010 to 2012, according to Singapore's Sansar Capital Management, which has $35 million in Iraqi equities and earned a return of about 27 percent last year.
The Iraq exchange attracted outside investors in February 2013 when local mobile operator Asiacell Communications listed its stock in a $1.3 billion initial public offering, the Middle East's biggest since 2008. Yet it's hardly been a stampede. Eighty-three Iraqi stocks trade at about six times earnings, compared with about nine times for emerging-market stocks in general, according to Bloomberg data. The market valuation of the Baghdad exchange is only $9.9 billion. In contrast, Saudi Arabia's market value is $484 billion.
Taha Ahmed Al-Rubaye, chief executive officer of the Iraq Stock Exchange, is seeking to attract more funds like Euphrates, saying foreigners account for only 20 percent of the bourse's investors. "I'm happy to see non-Iraqi investors like him," Al-Rubaye says of Felgenhauer. When he visits Baghdad, Felgenhauer eschews conspicuous security convoys in favor of a local driver and a beat-up car: He says he confronts checkpoints almost every mile. Although he keeps a daily tally of the number of explosions, he says the incidents aren't affecting his investments: "We're being well-compensated for the headline risks of terrorism and noisy politics."
Before it's here, it's on the Bloomberg Terminal.
LEARN MORE