Hawaiian Punch Sales Take a Hit, Like Other 'Juice' Drinks
by
Fewer kids want an old-fashioned Hawaiian Punch, it seems. Dr Pepper Snapple Group reported volume sales of the 5 percent juice drink, suggestive of some unnameable fruit flavor, dropped by 9 percent in 2013, making for the third consecutive year of negative sales for the 80-year-old brand.
Juice sales—frozen kinds, especially—are weak these days, and almost anything containing only a small amount of actual juice isn't connecting much with modern palates. Volume sales of these so-called juice drinks fell 3.4 percent last year and 2.7 in 2012, according to data from Euromonitor International. The ailing category includes classic brands like Capri Sun, created in 1969, and Sunny Delight, created in 1963.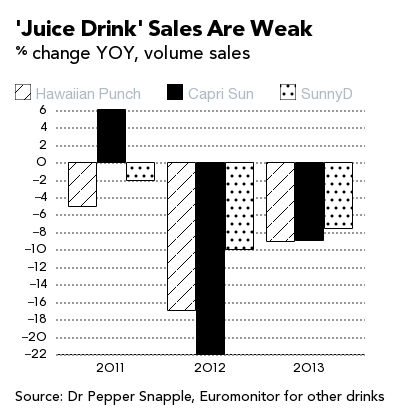 "The juice drink category as a whole is facing challenges," said Dr Pepper Snapple spokesman Chris Barnes in an e-mail. The price of Hawaiian Punch also increased a few years back, which didn't help matters.
"Consumer perception still plays a large role, and juice drinks such as Sunny D and Hawaiian Punch have yet to convince consumers that they are healthy for kids," said Euromonitor analyst Jonas Feliciano in an e-mail. "When it comes to juice drinks, parents are balancing sugar and calorie content against vitamins, calcium, and juice content."
Another challenge for some older brands is staying relevant. Kraft, for instance, has launched a "revitalization effort" for Kool-Aid, including new varieties like liquid "enhancers," which are mixes that can be squirted into water. Last year, Kool-Aid Man also got a new look (no pants) and new personality (still wall-smashing, just less aggressive about it. Oh yeah!).
Hawaiian Punch also gave its mascot, Punchie, a makeover in 2011. To evolve with changing tastes, the drink dramatically cut back on the calorie content: Fruit Juicy Red is now 60 calories per serving. Last year, Hawaiian Punch also launched a new breakfast drink called Aloha Morning, with vitamins A, C, and E. "We're pleased with its performance in the early going," said Barnes.
The history of Hawaiian Punch has some surprises, but the non-Hawaiian origin of the beverage isn't really one of the most shocking revelations. The sweet liquid was created in 1934 in Fullerton, Calif., with some ingredients that hailed from the namesake island. Originally a syrup, it was only sold to food-service outlets and intended for use as an ice cream topping. Customers found it made a tasty beverage when mixed with water, and in 1950 the concentrate became available in grocery stores.
Despite the recent lull in sales, Barnes said, "We're very committed to Hawaiian Punch."
Before it's here, it's on the Bloomberg Terminal.
LEARN MORE