Haute Casual Couture: High Fashion Co-Opts Activewear
A decade after the Juicy Couture craze, haute casual is back
By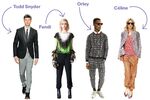 Maria Woike, 31, an associate creative director at a New York ad agency, likes to mix things up by wearing more formal clothing with a seemingly unlikely accompaniment: workout gear. "I tend to have a little bit of tomboy style," she says. "My favorite outfit is a pair of yoga pants with heels and a blazer and a retro throwback T-shirt."
The growing ranks of consumers like Woike with a penchant for pairing athletic wear with almost anything has turned baseball jackets, cashmere track pants, and even tailored men's sweats into hot items. With activewear sales growing more than four times as fast as the overall $201 billion U.S. apparel industry, according to market researcher NPD Group, it's not hard to see why designers from Cynthia Rowley to Todd Snyder showed so-called haute casual, or sports deluxe, clothes during New York Fashion Week in early February.
The fashion world has awakened to a trend that's driven strong sales at Nike, Lululemon Athletica, and Under Armour for the past couple of years: Increasingly, men and women are trading in jeans for sweatpants, yoga gear, and shorts and unapologetically wearing them anywhere and everywhere. "It's huge," says Roseanne Morrison, a fashion director at Doneger Group, a New York-based researcher of industry trends. "It's the new uniform."
In years past, high fashion has typically trickled down into everyday clothing. But the activewear trend is a "truly casual," bottom-up phenomenon, Marshal Cohen, NPD's chief industry analyst, wrote in a recent blog post. So while workout gear becomes more fashionable and is worn in more places, everyday streetwear also is looking more like athletic apparel. Throwing on a zip-up jacket over track pants has become a lifestyle choice for men and women of all ages, shapes, and economic means. Fifty-year-old ladies who lunch sport $1,000-plus Chloé leather track pants while high school girls flock to Under Armour's $20 running shorts. Yoga addicts and couch potatoes alike snap up Lululemon's $82 Wunder Under pants.
Those consumer choices are transforming the clothing business. While overall U.S. apparel sales rose 2 percent last year, activewear sales surged 9 percent, to $33 billion, according to NPD. Sales of jeans fell 1 percent. The trend has opened a chasm between chains that still sell a lot of denim, such as Abercrombie & Fitch, and those positioned in the activewear sweet spot. Under Armour's sales rose 35 percent in its most recent quarter, and Nike's profit exceeded analysts' estimates. That's a strong performance, especially since apparel chains are forecast to have recorded only a 1 percent sales gain last quarter at stores open for more than a year, according to analysts' estimates averaged by researcher Retail Metrics.
While Juicy Couture's velour tracksuits were popular last decade, Lululemon is largely responsible for making activewear de rigueur today, Doneger's Morrison says. The Vancouver-based chain applied a feminine touch to a previously male-oriented category, she says. Things went haute when French fashion house Céline elevated the look two years ago, says Sheila Aimette, vice president for North American content at WGSN, a London-based trend forecasting firm. Since then designer Phillip Lim has again made the sweatshirt an iconic piece for men and women while Alexander Wang has rocked the hoodie. This spring, expect to see activewear-inspired pieces from such luxury brands as Prada and Gucci, Aimette says.
At New York Fashion Week, up-and-coming designer Anjhe Mules showed a $295 baseball-inspired T-shirt and futuristic compression leggings for $460 from her Lucas Hugh collection. "People want clothes that are more functional because they're doing more through the day," she says.
Increasingly, designers are working with mainstream sporting goods companies. Last fall menswear designer Todd Snyder developed an activewear line for Champion. Riccardo Tisci, creative director for Paris fashion house Givenchy, has collaborated with Nike on a line. And Stella McCartney is known for her pieces for Adidas.
Bloomingdale's, seeing an oppor-tunity, currently highlights such fashions in the Third Avenue windows of its Manhattan flagship. "Not only is the need there, there is the supply and the diversity of designers that are really feeding this," says Brooke Jaffe, Bloomingdale's operating vice president for women's ready-to-wear. "We thought we were in a position to showcase the range of options. We call it 'track and heels.' "
Before it's here, it's on the Bloomberg Terminal.
LEARN MORE