Endless Winter Havoc Puts a Chill on Airline Profits
by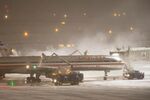 This has been a winter of costly discontent for airline executives.
Successive storms at the nation's biggest airline hubs—Dallas-Fort Worth, Chicago, Atlanta, and New York—have caused more than 81,000 flight cancellations over the past 75 days, according to data compiled by FlightStats and Flightaware, two of the major companies that track airline operations. Today alone, as a new storm hit from Virginia to Maine, airlines scrubbed more than 6,000 flights. On Wednesday the tally was 4,100 after Atlanta and Charlotte struggled with icing.
Today's winter storm forced cancelations of more than half the flights at 16 East Coast airports, including Charlotte, Newark, Philadelphia, and the three airports surrounding Washington, D.C. That marked the worst one-day disruption since Hurricane Sandy in 2012, Bloomberg News reported.
A certain level of flight cancellations can actually benefit large airlines, which see savings from unused jet fuel and fewer duty hours by staff. Pilots, for example, are paid when a plane moves, not when it's delayed at a gate. Delta Air Lines said last week that its January passenger revenue benefited 0.5 percent when the carrier was forced to cancel 4,000 flights in Atlanta on Jan. 28 and 29 due to a major snowstorm.
But past a certain point the weather-related snafus exact a high cost for carriers. United said the storms in January cost $60 million, due to lost revenue, while JetBlue Airways, the largest domestic operator in Boston and New York-JFK, said December snowstorms cost $30 million. Across the industry the toll of cancellations will "certainly" curb profits, says Helane Becker, an analyst with Cowen.
When weather cancels a flight, most passengers usually change their travel date, and the airline retains the revenue from the ticket sale. Given the nature of business meetings and conferences, however, some travelers may instead skip the trip entirely—and that will usually trigger refunds. Even some vacationers might even decide it's not worth the headache of rebooking and seek to get their money back. "If you're in the middle of a business trip, you have to get home," Becker says. "But if you haven't started your trip yet, you cancel and maybe do a conference call or maybe book the trip for later."
The largest U.S. regional airline, SkyWest, told analysts on a conference call today that it expects a $24 million hit from the 13,000 weather-related cancellations the first six weeks of this year—3,000 more than it had during the first six months of 2013. In 2012, the airline had 12,000 cancellations for the entire year.
Before it's here, it's on the Bloomberg Terminal.
LEARN MORE