Colombia Keeps Its Peso Weak
The Andean nation buys dollars, befuddling investors
by
At a time when emerging-market countries from Turkey to South Africa are trying to arrest a plunge in their currencies, Colombia is encouraging the fall of its peso. The nation is sticking with its two-year-old policy of buying dollars to beef up its international reserves, which are low compared with those of some of its neighbors.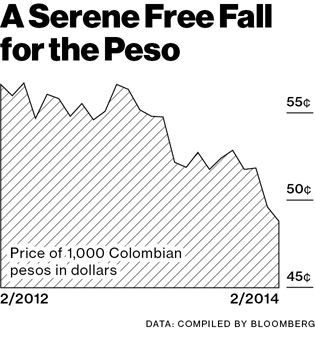 That decision accelerated a slide spurred by the Fed's decision to scale back monetary stimulus, which had provided cheap money that investors spent on securities around the world. The dollar purchases have so weakened the peso that foreign investors in Colombia's local currency bonds have been hit with the deepest losses in Latin America's sovereign bond market. The peso has dropped 5 percent this year, touching a four-year low of 2,061.13 vs. the dollar on Feb. 6.
To prevent an inflationary breakout from higher import prices, other developing countries are raising interest rates and selling dollars to strengthen their currencies. But Colombian policymakers are letting the peso decline, because inflation is hovering close to a six-decade low, contained in part by lower food and gasoline prices. The peso's slump benefits coffee, banana, and flower exporters. It also provides an export edge to industry, which contracted for most of 2013. "The weaker peso is good news for Colombia," Finance Minister Mauricio Cárdenas told reporters on Feb. 5. "It gives us complete tranquillity."
In January 2013, Colombia cut foreigners' taxes on their profits from peso-denominated bonds sold in the local market. Foreign funds jumped in, increasing their holdings of local debt to a record 6.6 percent of Colombia's outstanding bonds in October. But the dollar purchases by the central bank hurt foreign bondholders' returns when they convert their holdings from pesos to dollars and other currencies. "Colombia is not only saying it's not worried about the weaker currency, but the central bank is the only one in Latin America that is buying dollars," says Gustavo Arteta, a currency strategist at UBS. "That's not what foreign investors want to hear when there is so much apprehension regarding emerging-market currencies."
Central bank Governor José Darío Uribe said on Jan. 31 that there is an "enormous" margin for the currency to fall before it threatens Colombia's inflation target. Mario Castro, a currency and fixed-income strategist at Nomura Holdings in New York, estimates that the peso could slide to 2,150 to the dollar and stay at that level for several months before risking the nation's inflation target.
Consumer prices rose 2.1 percent in the 12 months through January, the government said in a Feb. 5 report. That's within Colombia's goal of 2 percent to 4 percent inflation. The rate fell to 1.76 percent in November, the lowest since 1955. The country is in a "more comfortable" position than its emerging-market peers, where devaluations could push inflation above targets, says Ana Fernanda Maiguashca, a co-director of Colombia's central bank.
The central bank, which has said it will purchase as much as $1 billion in dollars in the first quarter, has bought an average of $10 million a day so far this year. "The amount is small, but what matters is the signal the central bank is sending," says Eduardo Suárez, a Latin America currency strategist at Bank of Nova Scotia. He had expected Colombian policymakers to announce plans to halt dollar purchases at their last policy meeting on Jan. 31.
Colombia has come a long way since the 1990s and early 2000s, when guerrillas and drug traffickers controlled large parts of the country. Police and army victories over those groups opened up large regions to investment, especially in oil and mining. In 2003 the peso bottomed out at almost 3,000 to the dollar—far weaker than it is today. The peso has strengthened 47 percent since. The economy is expected to grow 4.5 percent this year, up from 4 percent in 2013, according to the median estimate in a Bloomberg survey.
Armando Armenta, a Latin America economist at Deutsche Bank, applauds the Colombian dollar-purchase program. Colombia's international reserves ended last year at $43.6 billion, compared with $65.7 billion for Peru and $176.6 billion for Mexico. "They need to accumulate reserves," he says. Yet Colombia's embrace of a weaker peso may prompt international investors to pull money from the country, according to UBS's Arteta, hurting its ability to finance itself at lower interest rates. "This is a new environment we're entering," he says. "When you have financing needs in the local market and want to attract foreigners, it's against your interest to let the peso plunge. It can cause capital to leave."
Before it's here, it's on the Bloomberg Terminal.
LEARN MORE