Carney Fuels Record U.K. Interest-Rate Bets With Policy Guidance
Anchalee Worrachate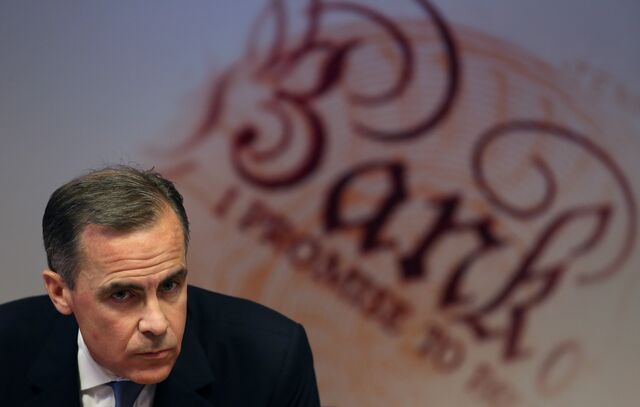 Mark Carney's guidance on the path of U.K. monetary policy, designed to provide investors and consumers with greater certainty, is instead stoking record speculation on future interest rates.
After the Bank of England Governor laid out a set of indicators yesterday that will help determine changes in central bank rates, trading volumes of short-sterling futures surged to a record. For the first time, dealers exchanged more than 2 million of the contracts, which allow investors to bet on future borrowing costs, IntercontinentalExchange Group Inc. said today.
Having initially focused on an employment threshold for determining its monetary policy, the BOE recast its forward guidance yesterday to say it would use a variety of gauges. While the central bank raised its growth forecasts, Carney said evidence of spare capacity in the economy justified keeping rates at a record-low 0.5 percent.
"The new guidance will keep the market guessing," said Salman Ahmed, the London-based global strategist at Lombard Odier Investment Managers, which oversees $46 billion. "It will create more uncertainty in the market than when it's linked to unemployment. The problem with forward guidance is that some in the market take it as a promise."
The implied rate on the December 2015 short-sterling contract jumped 19 basis points, or 0.19 percentage point, yesterday to 1.65 percent, the biggest increase since September, as trader added to bets on higher borrowing costs.
Traded Volume
Total traded volume in short-sterling futures climbed to 2.01 million contracts yesterday, an all-time high that exceeded the previous record of 1.99 million set last month, ICE said today in an e-mailed statement.
Britain's gross domestic product increased at the fastest pace since 2007 last year as historically low interest rates and government support for the property market spurred consumer spending. The central bank now predicts an expansion of 3.4 percent this year, which would make the U.K. the fastest-growing economy in the developed world, based on analyst estimates compiled by Bloomberg.
The benchmark bank rate will rise by 0.25 percentage point to 0.75 percent by the end of the second quarter next year, according to a separate Bloomberg survey. Banco Santander SA and Nomura International Plc are among those predicting that borrowing costs will rise as early as this year. BOE Chief Economist Spencer Dale said today investor expectations for a rate increase next year are "reasonable."
Short sterling futures and options volumes increased by 55 percent and 170 percent in January versus the same period a year ago, ICE said.
Before it's here, it's on the Bloomberg Terminal.
LEARN MORE