Boutique Hotelier Ian Schrager and Marriott Join Forces
Can Ian Schrager and Marriott make beautiful boutique hotels together?
Adam Higginbotham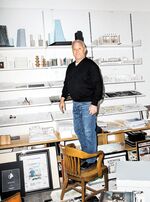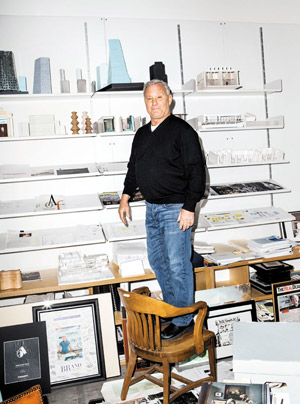 There are almost 300 framed photographs on the walls of Berners Tavern, the restaurant in Marriott International's new Edition hotel on Berners Street in Central London. Mounted in rococo gilt frames and crowded edge-to-edge into every corner of the bar's taupe walls, each image is one of bland good taste: a landscape, an animal, a piece of fruit, the artfully lit interior of a large country house. Some are large, some small; some are black and white, others are in color. Barely a single one is worth a second look, yet their combined effect, hanging over luxuriously upholstered banquettes, is dramatic, that of the world's most inviting, stately home. "It's a visceral thing," says Ian Schrager, who individually approved every picture, decided where each should hang, and—before the hotel's grand opening last September—mounted a stepladder to adjust the spotlights himself. "Anything in interior design is not about a detail. It's about the forest, not the tree."
At a small table near the bar, Schrager, 67, nurses a black coffee. Having just arrived from New York, wearing a baggy blue fisherman's sweater, his cheeks dusted with white stubble, he looks worn out. Although Schrager trained as a real estate lawyer, he speaks with a lisp and communicates with the Brooklyn accent and body language used in movies to make offers you can't refuse. (It's often been reported that his father, Louis, was a leading member of Meyer Lansky's crime syndicate, but Ian has always denied it. "Bulls-‍-‍-‍," he says. "He was a coat manufacturer in New Jersey.")His gaze wanders across the room. "I approved everything here: the colors, the finishes of the paint, the fixtures on the ceiling, the wattages of the lightbulbs," he says. Still, the color of the ceiling continues to trouble him. "A little chalky for me. I would have preferred more ivory." If it were his hotel, he says he'd have had it repainted before a single guest had a chance to see it. But the London Edition is the booming flagship of a new enterprise in which Schrager has become partners with Marriott, a behemoth with 19 brands, 3,800 properties, and 2012 revenue of almost $12 billion. The inventor of the boutique hotel has joined forces with his former nemesis, the global lodging chain. And he knows in the corporate world that you don't delay the opening of a hotel just because the dining room ceiling is the wrong shade of white. "I have to choose my battles. I'm doing something with Marriott because I wanted to do something on a really big scale," Schrager says. "You know, if you want to do it on a big scale, well—you got to play by the big-boy rules."
 
 
Schrager's relationship with rules is complicated. At the peak of his success as co-owner of the legendary disco Studio 54, he drove around Manhattan with millions of dollars in cash stuffed into the trunk of his blue Mercedes 450SL. After word reached the IRS that he and his business partner, Steve Rubell, were taking a generous skim from the nightly receipts, agents raided the club. In 1980 the pair were sentenced to three and a half years in federal prison. When they emerged 13 months later, stripped of most of their assets and unable to get a liquor license, hotels seemed a good way to go. "It's a hospitality business," says Schrager. "More civilized than a nightclub."
In 1981 the two found a buyer, Mark Fleischman, for Studio 54, but when he failed to deliver on his promissory notes, he instead offered Schrager and Rubell part-ownership in a 154-room former single-room occupancy hotel—a flophouse—on Manhattan's East Side. In 1984, under the austere eye of French interior designer Andrée Putman, this became Morgans, the first boutique hotel; Rubell coined the term to distinguish the curated experience he and Schrager were offering from the mass appeal of "department store" hotels such as Hilton. With chic monochrome décor, a Robert Mapplethorpe print on the wall of every room, and a staff hired from the books of modeling and casting agencies, Morgans proved a success with the same glamorous crowd—Cher and Bianca Jagger were early guests—who had clamored to get into Studio 54. A second hotel, the Royalton, soon followed.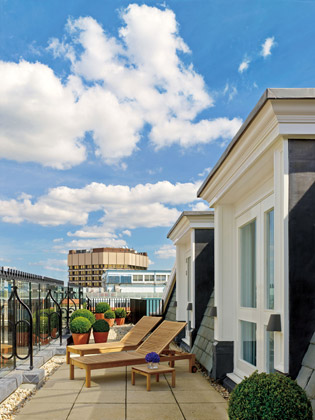 Like Morgans and the Royalton, later additions, the Paramount and the Hudson, were created from former SROs, and the age of these properties led to a signature style. "In an old building, you don't know what's behind the walls. We heard all these stories about people losing their shirts in renovations," Schrager says. "So one of the guys in the very beginning—nice little old Jewish guy—told us, 'Don't bang on the walls.' " In practice this meant leaving the bones of the guest rooms intact and redecorating to disguise their humble origins. To make tiny rooms seem larger, Schrager scaled down furniture by 10 percent, even sawing the legs off beds; he kept the hallways dark to make the rooms feel light and airy by contrast.
In the public areas, where renovation costs could be more predictably controlled, Schrager drew on his night-life experience to create theatrical spaces that combined drama and whimsy. He hired architect Philippe Starck to design three-legged chairs and a waterfall for a men's urinal. He liked to say that this emphasis on the public spaces was a return to an earlier incarnation of hotel lobbies as magnets of social activity; it helped that it also drew in lucrative outside business to the bars and restaurants that in other hotels were often ghostly, deserted places. The staff at Schrager's temples of style could often be dismissive, or simply incompetent, but they were usually attractive, and the guests didn't seem to care much about the service anyway. "People were willing to accept certain things," Schrager says. "You know, here it is: It's this great product; everyone working here is good-looking; this is the cool place to stay. And there was nobody else doing anything like it."
Rubell, the front-of-house man to Schrager's back-room fixer, died of AIDS-related illness in 1989; Schrager assumed control of what by then had became the Morgans Hotel Group. Over the following decade, he became the largest private hotelier in New York, and Morgans Hotel Group grew to include the Mondrian in Los Angeles, the Clift in San Francisco, and the Delano in Miami Beach.
But Schrager was no longer alone in the boutique hotel business. In 1998, Barry Sternlicht's Starwood Hotels & Resorts, which had already acquired the Westin and Sheraton chains, opened the first W, on Lexington Avenue in New York. It had a nightclub vibe in the lobby, a stylized, minimal look to the rooms, a good-looking staff described as "cast members," and bars run by former Schrager collaborator Rande Gerber. W was soon on its way to becoming the world's most recognizable boutique hotel brand, successfully adapting Schrager's quirky concept to the requirements of a chain—one that eventually outstripped Morgans in number and reach. There are now 38 W properties, including outposts in Bali and St. Petersburg, Russia.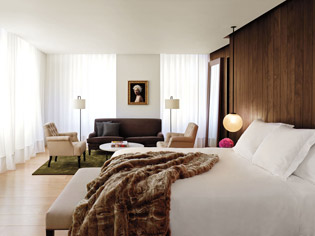 In the same year that Sternlicht opened the W New York, NorthStar Capital Investment raised $255 million to buy 84 percent of Morgans from Schrager. He continued to run the company's hotel operations, and by 2001 he and his new partners were in contract to sell the group for $1.3 billion, but Sept. 11 put an end to the deal. Schrager found himself increasingly unhappy in the role of chief executive officer and still wanted to sell. His partners wanted to go public instead, and in 2005 he decided he'd had enough. "I walked away," he says. "I enjoyed creating the hotels. I didn't really want to run a public company."
Afterward, Schrager set up on his own. The first project of the newly minted Ian Schrager Co. was the revered Gramercy Park Hotel in New York, which Schrager bought and remodeled with the help of artist and filmmaker Julian Schnabel. Not as gimmicky as his earlier hotels and run by a former manager for Mandarin Oriental, the Gramercy was Schrager's pitch for a more sophisticated, luxury market. It was this grown-up incarnation of the Schrager ethos that first attracted the attention of Bill Marriott, the then-74-year-old CEO of Marriott International, in 2006. Years before, Marriott had visited some of Schrager's other hotels, including the Hudson, and was bewildered by their success. "It was a big bar with rooms on top," he says. "And the rooms weren't particularly nice. We were scratching our heads trying to figure out why anybody would want to stay there."
 
 
At first, Marriott and his chief financial officer, Arne Sorenson, who later became CEO, felt that boutique—or "lifestyle"—hotels weren't a big enough business. "It looked to us like a very small, niche space. And one that we didn't need to pay much attention to," Sorenson says. But with an increasing number of independent lifestyle hotels opening around the world, Marriott recognized that his company was losing ground with a younger generation of guests who liked a party in the lobby and didn't care if there was an ironing board in their room. Marriott, thinking about how to go up against W, decided to take a look at what Schrager was up to and arranged a visit to the Gramercy.
When he and Sorenson arrived at the hotel late one afternoon in September 2006, they were surprised to find that Schrager himself had flown back from the West Coast to receive them. Marriott was impressed, and he liked the hotel. "I thought it was terrific," he says. "It wasn't as hip as his earlier efforts. It wasn't as sleek and modern. It had more color—a lot of red—and a big crystal chandelier in the bar. It crossed back into tradition and showed an ability on his part to adapt to not only the millennials but the older baby boomers as well."
Over coffee with Marriott and Sorenson in the Jade Bar at the Gramercy, Schrager said it would be great if they could do something together. Sorenson and Schrager spent the next six months discussing the possibilities in a series of meetings at a Ritz-Carlton hotel in Manhattan. In 2007 they agreed to a partnership and announced their intention to open 100 boutique hotels over 10 years under the Edition name. Each property would be owned by an individual real estate developer and given a discrete identity by Schrager and a team of architects and designers; Marriott International would operate them. But the launch—celebrated with a Beverly Hills party at the beginning of 2008—ran right into the financial crisis. Of the 10 deals the company struck to open Editions around the world that year, only two survived the crash. The first to open was in Waikiki in late 2010. That project came to an ugly end less than a year later. After opening to disappointing bookings and a net operating loss, the owners filed a lawsuit holding Marriott and Schrager responsible for the hotel's failure. Notwithstanding the 30-year contract they'd signed, the owners locked Marriott out of the property and changed its name, rebranding it overnight as the Modern Honolulu. The suit was finally dismissed by mutual agreement last year.
The first, abortive Edition was followed by a second, smaller one in Istanbul in 2011, but Schrager says the London hotel is the model for the future. Marriott and Schrager have revised their strategy. Instead of relying on third-party real estate developers, Marriott has bought up a small portfolio of Edition properties themselves. Here they can exert complete control and use them to seed Edition values with developers in other locations. "We decided to relaunch the brand," Sorenson says.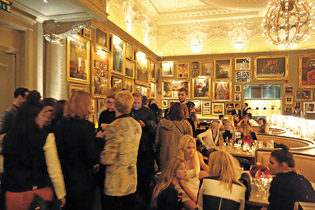 The lobby of the London Edition, which first opened as the Berners Hotel in 1908, features an elaborate molded-plaster ceiling and a decorative wrought-iron staircase. Schrager points out a few details: the giant mirror-finished, egg-shaped sculpture suspended overhead, the work of German lighting designer Ingo Maurer; the tapestry hung on the raw-barn-wood wall behind the reception desk, which Schrager spotted in the background of a scene in The King's Speech and had reproduced; the designer uniforms of the staff, which stand out against the worn marble floor. He says the key to his aesthetic is the mixture of old and new, high and low. "That creates the combustible mix. The same thing with a nightclub: It's the mixture of the people that creates the energy."
Schrager says he's been given an almost entirely free hand with the look of the hotels, and the tensions that might be expected in a working relationship between a former club impresario and a conservative corporation have not developed. He might have preferred the rooms to be a little bigger; Bill Marriott would like to see a bit of color here and there. "And the guest halls need to have more light in 'em, so you can see where you're going," says Marriott, now 81.
A room at the London Edition starts at $475 a night. Marriott declines to provide any details of the occupancy rates at the hotel, beyond saying that it's "doing quite well." Schrager is satisfied that he's pulled in exactly the kind of guest he promised. As we wander through the hotel, the combustible mix on display includes a middle-aged European couple in hiking jackets about to set off for a walk, a gaggle of young women dressed for a cocktail party but boisterously playing pool at five in the afternoon, and a balding man in an expensive-looking suit pecking away at a laptop. As the evening wears on, the music gets louder, and the cocktail bar becomes busier. Schrager is dismissive of market research and says he wants the hotels to appeal across demographic lines, to what he calls "old-fashioned good taste."
"If you ask me who the target is, I'd say, who buys Apple products?" he explains. "Apple doesn't do products just for the millennials or the baby boomers. This is something accessible to anyone that gets it. … Marriott couldn't believe it. They didn't have these kind of people in their hotels. They could have done a hotel out of solid gold, and these people wouldn't have come. So they're thrilled about it."
Since going into partnership with Marriott, Schrager has started his own chain of budget-priced designer hotels, named Public. His idea is to make hotels as cheap as a Hilton Garden Inn but as stylish as a boutique hotel. The first Public opened in Chicago in 2011. Innovations include no-frills room service with a guaranteed 10-minute delivery, which he says has already been copied by other chains. In the meantime, more third-party developers have signed on to open Editions around the world. "We want to do a lot of them," Schrager says, "before anybody gets an opportunity to copy it."
The next Edition is due to open in Miami this fall. Now Schrager is focused on two being developed in New York. One is in the landmark MetLife Tower building overlooking Madison Square Park. The other, scheduled to open in 2017, is in Times Square. It will be directly opposite a W. "And I'm gonna tell you," Schrager says, "Marriott likes that, and I like that."