Watching Olympics Online? Here's Why You See the Same Ads Over and Over
by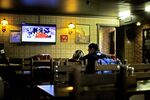 Variety is one of the true joys of the Olympics, a three-week span during which viewers can watch athletes from around the world skiing through the woods with guns, going on spandex-clad sled rides, and soaring above a crappy snowboard halfpipe, all within the course of an hour. But if you're watching NBC's online coverage, better brace yourself for some mind-numbing repetition: The same BP commercial has run three times in four minutes during a replay of the men's moguls, and one spot for Bounty paper towels played three times in a row during a single break.
Seeing the same cluster of commercials repeated over an hours-long broadcast isn't unusual for sports fans. But what's merely annoying on television can be torturous for streaming video audiences, where the ad inventory tends to be far more limited. During replays on NBCOlympics.com this week, the same one or two spots often show up during every single break. The monotony is arguably worse for ESPN's online coverage of the Australian Open or the NBA's League Pass streaming-video service, which sometimes show nothing at all during breaks in the action.
This inability to barrage online audiences effectively with marketing during sports broadcasts feels almost un-American. It's a baffling breakdown in the capitalist order, given the extreme enthusiasm the media and technology industries have shown for digital video ads, which draw much higher rates than, say, the boring advertising banners commonly found on websites.
For their part, companies in the online-video business say that everything is wonderful. Conversations this week with executives at NBC Sports Group, CBS Interactive, Turner Sports Digital, and Major League Baseball Advanced Media about the digital video advertising business turned up the same triumphalist themes. The companies swear advertisers are knocking down their doors to buy digital ads, and each company described its readiness to handle these requests.
NBC reported sales of $50 million in digital ads for the Olympics, more than double the levels of the 2010 Winter Games in Vancouver—although still just a fraction of the overall national ad sales of $800 million for Sochi. Rick Cordella, the head of digital at NBC Sports, said that while the company has had trouble persuading companies to buy digital advertising in past Olympics, that is not the case this year.
So with robust interest from digital sponsors, why are online audiences sitting through the same handful of ads from Coca-Cola, General Electric, and Proctor & Gamble on a Groundhog Day-esque loop? The small pool of ads is linked to NBC sponsorship rules. NBC is letting only brands that reached a certain spending threshold for TV advertising buy digital video ads—a restriction intended to ensure that the network could keep up with demand. "There's a capacity issue online," Cordella says.
An even bigger issue might be the lack of a great way to measure just who's watching streaming video coverage. Advertisers are very comfortable with television's rating system, but it is still early days for metrics of online audiences. Nielsen and comScore have products intended to measure how many people are watching online streams. But media companies and analysts say the systems are still being developed, leaving many advertisers wary about committing large sums to digital. A sticking point is mobile, where measurement is especially primitive. "That boil has not been lanced," says Bob Bowman, chief executive of MLB Advanced Media, which runs professional baseball's streaming video service.
The monotony might also be a selling point for brands. Marc DeBevoise, general manager for sports, entertainment, and news at CBS Interactive, says that some major advertisers actually want to see their ads to run repeatedly during online broadcasts. Sponsoring live sports has traditionally given companies the opportunity to insert themselves forcefully into the actual events, and replaying the same handful of ads can be a way to recreate that familiarity. "We don't get to replace Jim Nantz saying, 'Brought to you by Home Depot,'" DeBevoise says. "We do have other forms of value to deliver to that sponsor, banner ads and so on, but it's not the same."
Then there are technical issues. Turner Sports Digital says it has prioritized the highest value platforms—desktop computers and Apple's iOS—and is still working on the technology to insert ads into other platforms, such as Android and Windows mobile operating systems. This results in different experiences on different types of devices. You'll see recognizable TV ads if you use an Apple laptop to watch the Turner-produced NBA League Pass; watch the same broadcast on an Apple TV, and you'll get an infuriating song playing repeatedly as you stare at a digital scoreboard during every game break. Digital broadcasters are also less than confident about their ability to switch from the live stream to advertisements and back instantaneously, so they often leave buffers of blank space during each commercial break. You're not generally going to see those on television.
Drastic changes in consumer behavior will inevitably cause some growing pains for the industry, says Jim Nail, an analyst at Forrester Research. But Nail also sounds like a man who has spent a lot of time online recently with those Coca-Cola bears interrupting his speed skating. "You don't want to show the same freaking ad to the same individual in the same hour. That's just waste, pure and simple waste," he says. "It's probably bad for the brand, because it does get really annoying."
Before it's here, it's on the Bloomberg Terminal.
LEARN MORE