Stun Grenades Used as ANC Members Halt DA March in S. Africa
Amogelang Mbatha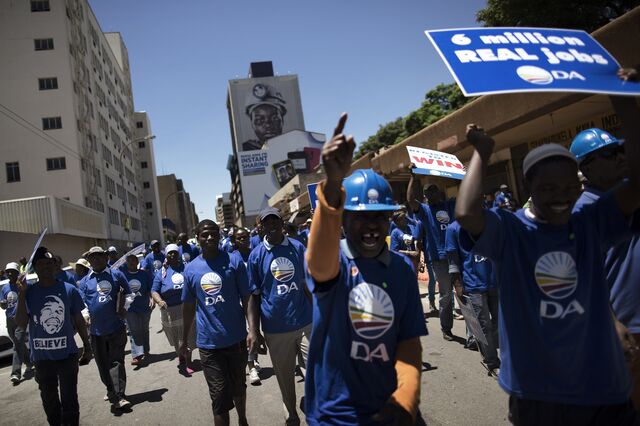 South African police used stun grenades to disperse supporters of the ruling African National Congress as they prevented a march by opposition party members in Johannesburg.
A few hundred people dressed in ANC T-shirts and carrying bricks and rocks began stoning the police as the group tried to make their way toward supporters of the Democratic Alliance. The DA called off a march by more than 1,500 people after being prevented from proceeding to Beyers Naude Square in downtown Johannesburg, where they were due to be addressed by leaders.
Armored police vehicles cordoned off Sauer Street, where the ANC's headquarters, known as Luthuli House, is located. ANC supporters stood on the road, singing "run Zille run," referring to DA leader Helen Zille.
"We brought bricks here today to protect our headquarters," Nhlanhla Mathonsi, 22, said in an interview near Luthuli House, carrying a backpack filled with the building stones. Bare-chested and wearing an ANC hat, Mathonsi marched with a crowd carrying sticks and whips.
The march proceeded this morning after the DA agreed in court that its supporters wouldn't go closer than 100 meters (109 yards) from the ANC's offices. The ruling party had opposed the march because it said it feared there would be violence.
Jobs Pledge
DA supporters in blue t-shirts and construction helmets carried posters calling for "6 million real jobs," a reference to the ruling party's employment pledge in its election manifesto. The ANC's promise to create "job opportunities" over the next five years doesn't translate into sustainable employment, according to the DA.
"The ANC keeps promising jobs and even saying it has created jobs but we have not seen any change since the last elections," Duduzile Nzimande, a 37-year-old mother of three, said in an interview in Johannesburg. "South Africa's government only reacts to protests."
The ANC, which has won every election since 1994 with almost two-thirds support, may face its toughest challenge in the May 7 vote. An opinion poll by Ipsos in October and November showed support for the ANC fell by 10 percentage points to 53 percent in the past year.
South Africa's jobless rate, the highest of more than 40 emerging markets tracked by Bloomberg, fell to 24.1 percent in the fourth quarter, as the government hired more workers and jobs in the informal industry increased, the statistics agency said yesterday.
Before it's here, it's on the Bloomberg Terminal.
LEARN MORE