Google at $400 Billion: A New No. 2 in Market Cap
By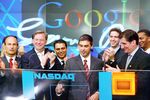 Zero to $400 billion, good for the second-biggest market capitalization in America, took a bit more than 15 years of existence and less than a decade as a public company. Not too shabby, Google.
The new king of all media just supplanted Exxon Mobil, an ancient conglomerate with multiples of its revenue, earnings, and assets, for the No. 2 slot; Apple remains on top. In addition to search and YouTube, Google does smart glasses, mysterious barges, renewable energy, and a pre-World War II blimp hangar.
The Mountain View (Calif.) company totes at least $59 billion in cash and has had a hand in 127 deals totaling a little less than $18 billion in the past three years, according to Bloomberg data. In the past two months alone, Google has taken out digital-thermostat maker Nest Labs for $3.2 billion and robotics shop Boston Dynamics. Last year, Google's venture arm led a $360 million investment in Uber, the car-booking app everyone is talking about.
"The market is valuing their forward innovation," says Colin Gillis, an analyst with BGC Financial. Google's sales growth last year of 19 percent is nearly half the clip it registered in 2012. Still, shares gained 58 percent in 2013 and have smoked the broader market and Nasdaq since their 2004 debut. "Everyone," says Gillis, "is betting on multiple future revenue streams. This is a market that loves to bid up promises. Look at Amazon and Facebook."
That benefit of the doubt, he notes, is so powerful toward Google that its stock keeps setting records despite the company missing consensus quarterly earnings four out of eight times up to the end of January. Sales have missed Wall Street's view in seven of the last nine reports.
So patient is the Street, in fact, that Google is getting a pass for finally (and creatively) preparing a stock split for the first time, more than three years after co-founders Larry Page and Sergey Brin first broached the idea. They were concerned their supervoting status would be diluted. Google's inaugural split this spring will create a new class of "C'" stock that carries no voting power. (One trader I spoke to called it a "dumb-money tranche.")
Page and Brin chiefly own Google's class "B" stock, which accords them 10 times the voting power of each (traditional GOOG) Class A share. Using that leverage, they exert control of 56 percent of the shareholder votes, even though they own less than 15 percent of the stock issued.
A new class of nonvoting stock will enable Google to continue compensating its workforce without thinning its founders' clout. Having your cake and eating it, too—easy when you're worth $400 billion, buying blimp hangars, and terrorizing streets with your driverless car.
Before it's here, it's on the Bloomberg Terminal.
LEARN MORE