Four Thoughts on Janet Yellen's Debut at the Fed
By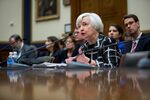 Yesterday, Janet Yellen appeared before the House Financial Services Committee in her first hearing since she was sworn in as Chair of the Federal Reserve. Looking tiny in a black-and-gray checked jacket and surrounded by camera lenses, she demonstrated remarkable stamina during six hours as she discussed the economy, monetary policy, and the Fed's plans. Over the course of her remarks, a few things became clear:
1. Yellen proved to be as politically astute as we thought.
The chairwoman lived up to her reputation as someone who can soothe prickly egos and dilute political tension, in this case by opening the meeting with an offer to stay in her seat as long as the congressmen in attendance wanted her to. Such a move immediately dispelled any hostility that might have been directed her way.
2. The market loves predictability, and on that score Yellen plans to deliver.
Throughout her vetting process and now into her first month in the job, Yellen and her supporters portrayed her as the lost twin of her mentor and predecessor, Ben Bernanke, and she seems poised to continue. "Let me emphasize, I expect a great deal of continuity in the FOMC's approach to monetary policy," Yellen said toward the beginning. "I served on the committee as we formulated our current policy strategy and I strongly support that strategy."
3. The Fed will continue "tapering" until it doesn't.
The Fed has been in crisis mode since 2008, keeping short term interest rates close to zero and then taking the more aggressive step of buying bonds in the market—referred to in jargon-y fashion as "quantitative easing"—to try to support the economy. Toward the end of Bernanke's tenure, the Fed indicated that, as the economy improved, it would start to slow down those bond purchases (additional jargon alert: "tapering"); Yellen says she intends to stick with that promise. The important caveat she added is that the Fed will reevaluate this at any point if the economy starts to look weaker. "[P]urchases are not on a preset course," Yellen said, "and the Committee's decisions about their pace will remain contingent on its outlook for the labor market and inflation, as well as its assessment of the likely efficacy and costs of such purchases."
4. Unemployment is still her pet issue.
Throughout her career as an academic economist, Yellen focused on unemployment and the middle class. She remains very worried about jobs: "[T]he recovery in the labor market is far from complete," she said. "Those out of a job for more than six months continue to make up an unusually large fraction of the unemployed, and the number of people who are working part-time but would prefer a full-time job remains very high. These observations underscore the importance of considering more than the unemployment rate when evaluating the condition of the U.S. labor market." In other words, we can expect interest rates to stay low for a good while longer.
Before it's here, it's on the Bloomberg Terminal.
LEARN MORE