Four Things We Learned Today About Obama's Nominee to Lead the SBA
by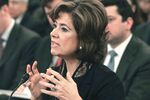 The White House took its time naming a replacement for Karen Mills, who announced her resignation as Small Business Administration chief in February 2013. Her successor appears well-qualified and poised to be confirmed by the Senate, judging from a hearing today.
Maria Contreras-Sweet, whom President Obama nominated for the SBA job last month, is the founder of a Los Angeles bank and once served in the cabinet of California's state government. She's made loans backed by the SBA and run a state agency that dwarfs the SBA in number of employees and annual budget. She's also a native of Mexico who adds to the cabinet's diversity and has roots in the fast-growing community of Hispanic entrepreneurs.
Contreras-Sweet testified before the Senate Committee on Small Business and Entrepreneurship today. Here's what we learned:
She's a political insider. That much was already apparent from Contreras-Sweet's résumé—in addition to her stint running California's Business, Transportation and Housing Agency, she was a Senate appointee to the Federal Glass Ceiling Commission and a director of the Congressional Hispanic Caucus Institute.
A few connections that emerged during the hearing: Senator Dianne Feinstein, a California Democrat, stopped by to recommend Contreras-Sweet, adding that the two have known each other for years. Senator James Rich of Idaho, the ranking Republican on the committee, said that he and the nominee have a mutual friend in Jovita Carranza, a former deputy administrator at the SBA. Contreras-Sweet also name-dropped her "good friend" George Mitchell, the former Senate majority leader.
The committee liked her. Senator Carl Levin, a Michigan Democrat, praised Contreras-Sweet's "wonderful experience and talent." Senator Mary Landrieu, the outgoing committee chairwoman, called her the "the most extraordinary nominee" she's seen in a decade on the committee. Senator Rich, as noted, was also friendly. There was no reason to expect the hearing would be contentious, but the senators seemed particularly congenial. Her lending experience and government service probably helped. It didn't hurt, for instance, to remind the senators that her job in state government put her in charge of the California Highway Patrol on Sept. 11, 2001.
She gets the nitty-gritty. Contreras-Sweet clearly knows her way around SBA lending programs, and she had no problem handling questions on the agency's 504 lending, microloan, and preferred lender programs. That's not surprising, given her professional experience, and it should mean a gentler learning curve if she takes over the agency.
Speaking of confirmation …. The committee didn't have enough senators for a quorum, meaning a confirmation vote is still a ways off. When the committee next meets, Landrieu will have passed the chairwoman's gavel to Senator Maria Cantwell, a Washington Democrat.
Before it's here, it's on the Bloomberg Terminal.
LEARN MORE