Everyone Wants to Be in K-Cups, Even Coffee Laggards Like Krispy Kreme
By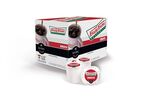 What's one more K-named product for a brand like Krispy Kreme? Sure, the maker of factory-fresh doughnuts isn't exactly the leading name in caffeinated beverages. But that won't stop the company from keeping up with its rivals by launching a line of K-Cup pods through yet another in Green Mountain's growing list of partnerships for access to its single-serve Keurig brewers.
Any hopes of sipping on a glazed doughnut-flavored K-Cup soon should be abandoned—Krispy Kreme will start with basic options dubbed Smooth and Decaf. Other chains have swooned over the potential for single-serve pods to boost their sales of at-home coffee, yet Krispy Kreme doesn't have a big coffee business. Chief Executive Officer Jim Morgan said in September that beverages are only about 12 percent of the doughnut chain's sales, with the rest coming from its sugary cakes. "I think that mix does not reflect well upon what we've done in beverage over the past decades," he said at the time.
Dunkin' Donuts makes about 60 percent of its sales from drinks, and the much larger competitor has been in the K-Cups game since 2011. Rolling out new flavors for the Keurig is now part of the strategy for expanding Dunkin's coffee sales: "K-Cups react to innovation like everything else in our store," said Chief Financial Officer Paul Carbone during an event last year. Dunkin' currently offers mocha, French vanilla, and hazelnut.
Starbucks also entered K-Cups in 2011, and sales of the pods brought in about $232 million for the chain in fiscal 2012. The company sold its billionth K-Cup last year and foresaw a lot of room for growth in the U.S. based on overseas comparisons. "We anticipate there's no reason that the U.S. marketplace, over a handful of years ahead of us, can't progress to single-serve consumptions like Germany or like so many other markets," then-CFO Troy Alstead said at a conference last May.
Krispy Kreme's announcement comes just days after the CEO of Dunkin' Donuts said in an interview with CNBC that the company also "intends" to launch a product for Keurig's upcoming cold drinks machine, which will also make carbonated drinks such as Coca-Cola. McDonald's also has plans to test packaged coffee, including single-serve pods, in a partnership with Kraft this year.
Before it's here, it's on the Bloomberg Terminal.
LEARN MORE