Canadian Olympians Winning Medals at Vancouver Pace in Sochi
Christopher Elser and Rob Gloster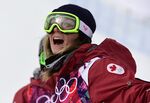 Canada is dominating the freestyle skiing slopes of the Sochi Winter Games, and some of that confidence seems to be moving to its skaters.
The country has 10 medals, tied for second place with the Netherlands, two behind top-performing Norway on the fifth day of competition. Canadian women have won six of the nine medals contested in freestyle skiing, and its squad finished second in team figure skating. Yesterday, the women's hockey team beat the U.S. 3-2 in a preliminary round game.
Canada's record for medals is 26, set when it hosted the 2010 Olympics in Vancouver. The government has continued to fund sports, and the national Olympic committee has reached out to companies and private sources to supplement that spending. It appears to have paid off, officials said.
"I think that we're happy we're able to maintain the same level of performance we had in Vancouver," Canadian Olympic Committee executive board member Dick Pound said in an interview. "It was such an unusual experience for us to be at the top, so we were hoping to maintain it."
Canada's budget released two days ago calls for a C$23 million ($20.9 million) annual boost in sports funding to start next year, with C$11 million for winter sports. A non-profit group Own the Podium will help with funding and supporting athletes.
The country boosted sports spending after failing to win gold medals at the Montreal Summer Games in 1976 and at the Calgary Winter Olympics 12 years later. Increased funding means better performance, Pound said.
"The good thing is we maintained the public funding, and they've been able to increase the private funds from corporations and wealthy individuals," he said.
Freestyle Success
Canada has won gold in all three freestyle skiing events so far at Sochi, and its six medals is already the most by a country in the sport at a single games. Canadian sisters Justine and Chloe Dufour-Lapointe won gold and silver in women's moguls freestyle skiing, becoming the first siblings to finish 1-2 in an Olympic event since Phil and Steve Mahre of the U.S. in the 1984 men's slalom.
Canada is also benefiting from the coverage of its sportsmanship. Speed skater Denny Morrison won a silver medal in the men's 1000 meters after teammate Gilmore Junio pulled out so Morrison could take the spot.
Junio sacrificed the opportunity because Morrison had a better chance to win a medal, Canadian team spokesman Antonio Faiola told journalists.
Friendly Payback
"I'm pretty good friends with all my teammates actually, but now he is probably my best friend," Morrison said at a news conference. "I think I probably owe him something. He just told me we needed some medals for this team, and historically I had better results than him in the 1000 meters so he wanted me to go."
The women's hockey team, the defending champions, came back to beat the U.S. with three goals in the final period.
The Canadians and Americans renewed one of the top rivalries in women's team sports in a preliminary-round contest that may be a preview for the gold-medal final.
Canada won the title three times since women's hockey was added to the Olympics in 1998. The U.S. captured the other gold medal. The neighboring nations have met in the finals three times in four Winter Games.
No Love Lost
"It's fun, there's no love lost," Canadian forward Hayley Wickenheiser told reporters. "It was a collective, 'Stay calm girls.' We always play our best in the third."
Canada and the U.S. have dominated women's hockey since it gained international acceptance in the late 1990s. In addition to combining to win all the Olympic golds, the two countries have played in the finals of all 15 World Championships -- Canada has a 10-5 record in those games, though the U.S. has captured four of the last five titles.
Defending Champions
Canada has a chance for medals in both women's and men's hockey, with both teams the defending champions from Vancouver. The men play their first game tonight, against Norway.
"This time, I think we know that pressure is there, but we're a little bit more loose, a little bit more talkative, a little more energetic in the room, and we can just go out there and try to upset the Russians if we have the chance," men's forward Jonathan Toews told journalists. "That same home-soil pressure is on them this time."
Before it's here, it's on the Bloomberg Terminal.
LEARN MORE