Billionaire Triguboff to Double Debt Amid Apartment Surge
Nichola Saminather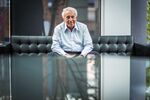 Meriton Pty, Australia's biggest apartment developer, plans to double its debt this year from about A$300 million ($268 million) to buy land amid record low interest rates and soaring demand for apartments.
"I've now a lot more empty land available, and the land goes up; it's a very good investment," Harry Triguboff, the billionaire founder and managing director of closely held Meriton, said in an interview in Sydney. "Land values are going up a lot in Sydney, but it's feasible to build because prices are going up too."
The billionaire forecasts apartment prices will rise as much as 6 percent this year in Australia's most populous city. They gained 11.5 percent in December from a year earlier, the fastest annual growth since 2002, according to the RP Data-Rismark Home Value Index. Meriton, which had been debt free since 2000, took out a loan in early 2013 to fund new developments as it held on to more of the apartments it built to capitalize on rental demand.
Triguboff, who turns 81 next month, is Australia's fourth-richest individual with a net worth of $5.3 billion, according to the Bloomberg Billionaires Index.
Serviced Apartments
Meriton, based in Sydney, owns or manages more than 3,000 apartments as long-term accommodation, and rents out 3,200 serviced units, according to the company. Meriton owns enough land to build about 11,000 apartments, up from a traditional pipeline of about 8,000, Triguboff said. About 1,500 of those will be built this year, he added.
Apartments offered rental yields of 4.7 percent in Sydney as of Jan. 31, and 5.4 percent in Brisbane and the Gold Coast, according to figures from RP Data. The weighted median value of residential land rose 2.9 percent in the three months to Sept. 30, according to the latest joint report from the Housing Industry Association and RP Data.
Apartments in suburbs close to city centers will be the most popular type of new developments after houses in the same locations over the next 12 months, a survey of about 290 property professionals by National Australia Bank Ltd. today showed. Apartments valued at less than A$1 million have the best prospects for capital gains this year, the survey showed.
Chinese Demand
Meriton sells between 12 percent and 15 percent of its apartments to overseas buyers, most of them Chinese, according to the company. It doesn't market the properties in mainland China and has no plans to start, Triguboff, the Chinese-born son of Russian-Jewish immigrants said.
"They come to me," he said. "Today, we're part of the Chinese market, more than 10,000 apartments is nothing," he said, referring to how many units the company can build.
Meriton, which has focused on Sydney in New South Wales state, and Brisbane and the Gold Coast in Queensland, is venturing into Melbourne in Victoria for the first time, seeking existing buildings and development sites in the city's center for serviced apartments, Triguboff said.
In Sydney, Meriton is open to acquiring commercial properties in "top locations," such as overlooking Hyde Park in the city center, for conversion to apartments, he said.
Meriton continues to receive interest from global investors to take over the company, Triguboff said. Last year, he said he had been approached by bankers representing pension funds from Canada and the U.K., and Chinese funds.
"We have interest all the time, but they don't give me enough," he said, adding the company is worth A$6.1 billion.
If the price is right "I might sell," he said. "But I now have a grandson who's started. If he'll be OK, maybe we'll keep it."
Triguboff's grandson began working at Meriton last month, he said. His first great grandchild, born to granddaughter and Meriton's Marketing Director Ella Lizor this year, could also be a potential successor, he said.
Before it's here, it's on the Bloomberg Terminal.
LEARN MORE