pursuits
A Caribbean Crowded With Ships Means Discounts for Cruise-Goers
By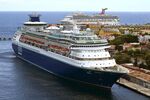 Crippled cruise ships, engine fires, and passenger-sickening viruses: All that stuff is so last year for the cruise industry. A different and less-publicized problem—a flood of new cabins to sell—threatens to make 2014 another challenging year for the big cruise lines. (The norovirus? Well, that's always lurking.)
"The lines are hurting," says Bob Levinstein, chief executive of CruiseCompete.com, which helps travel agents place bids for cruise itineraries. "There's a glut of sailings in the Caribbean."
Cruise lines have added four new ships since November, with almost 15,300 berths in total, and three of them will ply the Caribbean year-round. The largest of those, Royal Caribbean Cruise's 4,180-passenger Quantum of the Seas, will sail from New Jersey, starting this fall. The first Quantum-class ship also has what are purportedly two industry firsts: a skydiving simulator and a bumper car pit.
That kind of supply is leading to Caribbean bargains such as the one Levinstein snagged for himself: $649 for a suite on a seven-day voyage on Norwegian Cruise Line's Epic later this month.
About midway through the industry's "wave season"—the first quarter of the year, when about one-third of all cruises are sold—a pricing split has emerged. Prices this winter have dropped 7.7 percent since December, with Carnival's exposure as the largest line selling the most inventory leading to the weakest pricing, according to Cruise Market Watch pricing data cited by Jefferies analyst Ian Rennardson.
Average ocean-view and balcony cabin prices for March sailings on the six major North American lines have dropped $49 over the past month, according to fare data compiled by CruiseCompete. An inside cabin is down $22, while balcony cabins are $83 below their price in November. It's not all bad news for the industry: Prices on voyages scheduled in November and December are up from $2 to $45 from a month ago, depending on cabin type. But average price per day in the Caribbean is down 5 percent from last year's levels for sailings within 60 days, according to data from Priceline.com.
"It seems all operators are having to cut prices to fill their ships in the winter months," Rennardson wrote in downgrading Carnival to underperform because of execution risks and the stock's 30 percent rally since early autumn.
Because the industry relies so heavily on repeat customers, it is paramount for cruise companies to refresh the Caribbean arena with new destinations and experiences, not just new ships. That's one reason for the proliferation of private islands: Every major cruise line now owns at least one.
Not to mention the push for new destinations. The first cruise guests disembarked this week at the Banana Coast, a newly constructed port of call near Trujillo, Honduras, with new shops and 10 acres of sandy beach. The town, founded by the Spanish in 1525, has a nearby rainforest that provides excursion options.
A further option is to send ships abroad to other warm-weather climes in the Mediterranean or Asia, which companies have begun doing. Unfortunately for cruise lines, however, many of the passengers on European cruises tend to be from America and Canada. And unlike cruise prices, trans-Atlantic airfares have certainly not undergone discounts.
That means one big cruise theme will likely persist in 2014: more ships in the Caribbean bringing more pressure on prices.
Before it's here, it's on the Bloomberg Terminal.
LEARN MORE