When Subtraction Adds More
Robert I. Sutton and Huggy Rao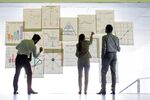 Reprinted from Scaling Up Excellence: Getting to More Without Settling for Less , by Robert I. Sutton and Huggy Rao (Crown Business, 2014)
Chris Fry, Twitter's head of engineering, once said (with some exaggeration): "The job of the hierarchy is to defeat the hierarchy." Fry and fellow executive Steve Greene don't believe that the hierarchy should be used to unleash anarchy. They mean it should be used, in Greene's words, to "build a better organizational operating system," a lesson that they gleaned from scaling up Salesforce.com's development organization.
Fry and Greene emphasize that, although more roles and processes are needed as organizations and projects expand, skilled leaders wield their power to eliminate needless friction and complexity—not burden employees with "rules, tools, and fools" that make it tougher to do their jobs and waste money and talent.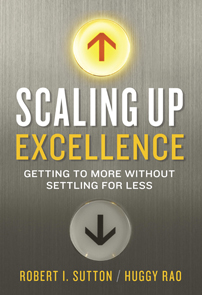 In April 2013, Robert Sutton attended a gathering at Intuit, where Chief Executive Officer Brad Smith and Chairman Bill Campbell had a rollicking discussion about "creating awesome products." The pair echoed Fry and Greene's advice, emphasizing that they were bent on reducing friction for engineers and doing everything possible so that the people who build Intuit's products don't feel as if "they are walking through muck."
Smith and Campbell also emphasized to the mostly Intuit audience that people in staff positions need to think and act the same way. We followed up with Intuit to learn more about how the company's leaders lived this belief. We were especially struck by the changes they've made to speed and smooth the decision-making process. After an internal task force examined how product teams decide what goes into a new software release, they found that too many managers were too involved in such decisions.
The process was inefficient, unclear, and sometimes demoralizing for team members. After a detailed analysis, the task force rolled out a new decision process. It grants far more decision authority to small scrum teams that use agile software-development methods. Management's role in each decision is limited to (at most) a pair of approvers: one sponsor to remove roadblocks and one coach to provide vision. The rest of the decision is left to the scrum team that best knows the product and the target customers.
This Intuit story demonstrates how a hierarchy ought to function during scaling: The best organizations perform constant subtraction, not just addition and multiplication. The story also reinforces a basic insight about scaling: "Many hands make light the work" is a dangerous half-truth. We've shown how adding people to an organization, a project, or a team creates costly side effects. As more people come aboard, members do (and should) devote more time and effort to communicate, coordinate, and maintain warm and trusting bonds. Despite such efforts, coordination and relationships are still prone to degenerate as more members join.
Follow what founders Akshay Kothari and Ankit Gupta did at Pulse News when communication problems started cropping up: If a team has more than six or seven members, break it into two or three subgroups.
Before it's here, it's on the Bloomberg Terminal.
LEARN MORE