The Senate Can't Part With Saturday Mail Delivery
By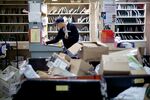 Something puzzling happened last week, when a U.S. Senate committee passed a postal reform bill allowing the U.S. Postal Service to move to five-day delivery if mail volume falls below 140 billion pieces a year, which would amount to a 10 percent decline over 2012.
The bill that emerged on Thursday, however, has an amendment forbidding the USPS from moving to five-day delivery until the fourth quarter of 2017. That's happens to be the precise time when the USPS predicts volume will actually tumble to 140 billion level. In other words, defenders of Saturday delivery concede that mail volume is likely to dramatically diminish—they're just worried it could happen even sooner. They are trying to throw a further road block in front of the USPS, even though the postal service insists that carrying letters six days a week is no longer cost-effective.
It's important to look at the Senate's head-scratcher of a decision in a broader context. Other countries are treating the disappearance of their mail as a crisis. Canada is eliminating home delivery in cities. New Zealand is moving to three-day delivery. The U.K. privatized its mail system last year. The USPS request to end Saturday letter delivery looks fairly tame by comparison.
Rather than scaling back service in response to lower mail volume, Congress may very well preserve an outmoded service for three additional years. The USPS has a better plan. First class mail is in inexorable decline, but package delivery is rising on the strength of online shopping. U.S. Postmaster General Patrick Donahoe wants to end Saturday letter delivery while maintaining Saturday package delivery; postal workers are even delivering packages on Sundays for Amazon.com. Donahoe's critics complain that all he wants to do is cut service, but that's clearly not the case.
Now the bill, introduced by senators Tom Carper (D-Del.) and Tom Coburn (R-Okla.), moves to the to the full Senate, where there are likely to be further compromises. In an election year, few lawmakers want to lose votes by curtailing mail delivery. Never mind that polls show most Americans don't see a need for continued Saturday delivery. No wonder the USPS is in trouble.
Before it's here, it's on the Bloomberg Terminal.
LEARN MORE