Syria Talks Offer Letup From Military Threats, Minister Says
Donna Abu-Nasr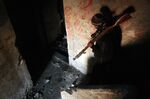 Syria's engagement in Geneva peace talks buys it time against potential military strikes and eases international pressure on the government of President Syria Bashar al-Assad, a senior cabinet minister said.
"Geneva protects us from the heat of summer and the cold of winter" by giving the Syrian government breathing space, Minister for National Reconciliation Ali Haidar said by telephone from Damascus yesterday.
Engaging in a political process "reduces external pressures," delays any renewed talk of military strikes and allows the Syrian government, shunned by most Arab and Western states, to "convey what's really happening in Syria," Haidar said. "This is our only benefit," he added.
The U.S. had threatened an air strike against Syria in September before Assad agreed to surrender his chemical weapons arsenal.
Syria's warring sides returned to the Swiss city yesterday to pick up on their first face-to-face meeting last month, which adjourned Jan. 31 without substantive results. The Syrian government delegation is headed by Foreign Minister Walid al-Muallem and the opposition team is led by the Syrian National Coalition, the main political opposition.
The nation has been gripped by violence since peaceful protests calling for an end to Assad's rule in 2011 escalated into violent conflict and eventually civil war. More than 130,000 people have died in the bloodshed, at least 2.4 million have fled the country, and sectarian rifts have been created that will be hard to heal.
Assad's Role
Assad's fate is the main sticking point in the talks. The opposition doesn't want him to play any role in a transitional administration, a position the president's loyalists reject. It also rejects the government's call to focus first on eradicating "terrorism" -- a term used by Assad officials to refer to rebel fighters -- and only then discuss who will run the country.
The two sides remained far apart after today's talks.
"Today was another lost day because they insisted there's no terrorism in Syria and didn't want to discuss it," Syrian Deputy Foreign Minister Fayssal al-Mekdad told reporters in Geneva, referring to the government's rivals.
Opposition spokesman Louay al-Safi said that for violence to stop a transitional government must first be established.
'Speed Up'
A draft resolution calling on all parties to agree to ceasefires and ensure access for humanitarian aid was circulated at the UN Security Council today, according to a UN diplomat who asked not to be identified commenting on continuing negotiations. It calls for the use of force and economic sanctions against those that fail to comply. Assad's ally Russia has vowed to veto the draft should it be put to a vote.
UN mediator Lakhdar Brahimi said not much progress was made. He appealed at a news conference for "everyone to make this process a reality and help Syria out of the nightmare its people have been living through for three years.
''I am urging everybody to speed up except for those who kill people,'' he said.
A growing number of Syria's opposition fighters are inspired by al-Qaeda, allowing the government to tout its claims that the country is embroiled in a fight against terrorism, and not a civil war.
Opposition member Ahmad Ramadan said the government ''is trying to avoid talking about a transitional government'' by insisting on the expansion of the rival delegation and discussing terrorism first.
If the government really wanted a more representative delegation, he said, it would have met the opposition demand to release Abdul-Aziz al-Khair, a member of the National Coordination Committee for Democratic Change, who disappeared more than a year ago after returning to Damascus from abroad. The group is the main umbrella for the Syrian-based opposition; some opposition groups are based abroad.
Before it's here, it's on the Bloomberg Terminal.
LEARN MORE