Shirley Temple Black, Child Star Who Turned Diplomat, Dies at 85
Laurence Arnold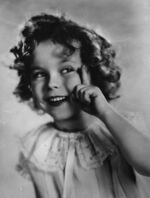 Shirley Temple Black, the child actor who lifted America's spirits and Hollywood's profits during the Great Depression with tunes such as "On the Good Ship Lollipop," then left the spotlight at 21 for a life of political service and limited celebrity, has died. She was 85.
She died yesterday at her Woodside, California, home, according to an e-mailed statement from Cheryl J. Kagan, a spokeswoman for the family.
Decades before the label "child star" became a portent of later-life dysfunction, Shirley Temple showed that talented toddlers could survive, even thrive. Dimpled, curly-haired and prodded by her mother, she sang and danced her way into movies beginning at age 4.
At 6, she won a miniature Academy Award. Her licensed dolls and clothing were big sellers. Restaurants nationwide served an alcohol-free drink named for her, usually consisting of ginger ale, grenadine and a cherry.
Temple's most memorable roles -- in films including "Little Miss Marker" (1934), "Bright Eyes" (1934), "The Little Colonel" (1935) and "Wee Willie Winkie" (1937) -- cast her as precocious and preternaturally optimistic, orphaned or laboring to win the affection of a parent or grandparent. Audiences flocked to her films as respite from economic gloom.
"During this Depression, when the spirit of the people is lower than at any other time, it is a splendid thing that for just 15 cents, an American can go to a movie, look at the smiling face of a baby and forget his troubles," U.S. President Franklin D. Roosevelt said in 1935.
Political Activity
Temple's box-office appeal waned as she grew into adulthood, and she made her last movie in 1949. Her second marriage, to businessman Charles Black, lasted almost 55 years until his death in 2005. They raised two children, plus a daughter from Temple's brief first marriage.
As Shirley Temple Black, the onetime star became active in Republican Party politics in the 1960s and served in diplomatic posts under four presidents.
"I had an enchanted childhood, a magic childhood, with great memories," Black told reporters in 1978, when she turned
50. "But I don't want to live in the past and I don't live in the past."
In her 1988 autobiography, "Child Star," Black described the perks and indignities of her early career. She said she wrote the book partly to counter a misconception that she had been forced into show business by an overly pushy mother.
Career Earnings
She also revealed that her father, guided by his business partner, squandered much of the $3.2 million she had earned as a child, leaving her with just $44,000 by 1950.
She said she wasn't troubled by her lost fortune: "Perhaps years spent ignoring such matters had insulated me from disillusion."
Shirley Jane Temple was born on April 23, 1928, in Santa Monica, California, the third child and only daughter of George Temple and the former Gertrude Krieger.
Her father worked for an electric utility company and later managed a bank branch. Her mother had once aspired to be a ballerina but had received little encouragement from her own family. She was determined to make up for that with her own daughter, beginning with music and dance instruction.
It was at Ethel Meglin's Dance Studio that Shirley, at 3, tried out for a group of studio scouts. They signed her to appear in a series of comedy shorts, the "Baby Burlesks," designed to draw laughs by dressing up and deploying young children in famous film scenes.
Altered Document
The shorts were "a cynical exploitation of our childish innocence," Black recalled in her memoir, and for good measure "occasionally were racist or sexist." Child actors who misbehaved were forced to sit on a block of ice. She got $10 a day, plus $5 for her mom.
At 5, she was signed by Fox Film Corp. -- later 20th-Century Fox -- for "Stand Up and Cheer!" (1934) and shined in her song-and-dance number, "Baby, Take a Bow." Fox gave her a contract and altered her birth certificate to make her appear a year younger -- about to turn 5, not 6.
For that breakthrough year, 1934, Black earned a flood of write-in votes as best actress, resulting in the Academy of Motion Picture Arts and Sciences' decision to give her a special mini-Oscar.
Fox loaned her to Paramount Pictures to play the lead in "Little Miss Marker," which made her a star. In the Damon Runyon tale, she played Marthy Jane, whose father leaves her with a bookie, a cabaret singer and their rough-edged friends as collateral for a bet he ends up losing.
Moving Up
Reviewing the movie for the New York Times, Mordaunt Hall wrote: "Tiny Shirley Temple is a joy to behold and her spontaneity and cheer in speaking her lines are nothing short of amazing."
Temple's pay tripled, and her family moved to a bigger house and hired a secretary to handle the 4,000 fan letters each week. Fox arranged for private schooling in the cottage it reserved for her family on studio grounds.
"Baby Take a Bow," her next movie for Fox, was followed by "Bright Eyes," which featured Temple, aloft in an airship, singing what would become her signature tune, "On the Good Ship Lollipop." Fox rewarded her with a six-year contract extension that paid her $1,000 a week, and her mother $250 a week.
She tap-danced up a staircase with Bill "Bojangles" Robinson in "The Little Colonel" (1935), a pairing that would be resurrected in "The Littlest Rebel" (1935), "Just Around the Corner" (1938) and "Rebecca of Sunnybrook Farm" (1938).
Missing 'Oz'
Two 1936 movies, "Dimples" and "Stowaway," continued Temple's golden run, each grossing $1 million in the U.S.
Metro-Goldwyn-Mayer tried without success to swing a deal to give Temple the starring role in "The Wizard of Oz" (1939) that ultimately went to Judy Garland.
In 1940, after two box-office duds -- "The Blue Bird" and "Young People" -- 20th-Century Fox jettisoned the star that had saved it from bankruptcy. Stepping into the real world, Temple started attending classes at Westlake School for Girls.
She was signed by David O. Selznick, producer of "Gone With the Wind" (1939), to a contract that gave her a chance at adult roles, in movies including "Since You Went Away" (1944) and "Kiss and Tell" (1945). Among her final films was "The Bachelor and the Bobby-Soxer," (1947), with Cary Grant and Myrna Loy.
In 1945, at 17, Temple married John Agar, an Air Force sergeant and the brother of one of her classmates. He became an actor, and they appeared together in "Fort Apache" (1948) and "Adventure in Baltimore" (1949). They had a daughter, Susan, before Temple filed for divorce in 1949.
Moving On
In 1950, after Temple had declined numerous film offers, MCA Inc. dropped her as a client.
"Stars drop agents, not vice versa," Temple told MCA President Lew Wasserman in a meeting, according to her memoir.
She said Wasserman replied, "You're through. Washed up."
Temple was already beginning the next phase of life. On vacation in Hawaii months earlier, she had met Charles Black, a wealthy California native who ran a pineapple business and was unfamiliar with her films or fame.
"It was very refreshing to me -- a handsome guy who wasn't interested in Hollywood or anything about it," she said.
They married in December 1950, and she became Shirley Temple Black. They had a son, Charles Jr., and a daughter, Lori. Black made a brief comeback on television with "Shirley Temple's Storybook" from 1958 to 1961.
In 1967, she ran as a Republican candidate in a special election for Congress in her California district. She finished second in a field of 11.
Presidential Appointments
In 1969, President Richard Nixon appointed her U.S. delegate to the United Nations. President Gerald Ford in 1974 named her U.S. ambassador to Ghana and, later, the first woman to be U.S. chief of protocol at the State Department. Under Ronald Reagan -- her co-star in "That Hagen Girl" (1947) -- she ran seminars for diplomats. In 1989, President George H.W. Bush named her U.S. ambassador to Czechoslovakia, where she witnessed the country's transition to democracy.
Black was a longtime advocate of research and treatment for multiple sclerosis, which afflicted her older brother, George. He died in 1996. Her oldest brother, Jack, died in 1985.
After breast cancer and a mastectomy in 1972, Black held a news conference in her hospital room to encourage women not to "sit home and be afraid" if they discover a lump.
In 1985, the Academy of Motion Picture Arts and Sciences awarded Black a full-size Oscar to complement the miniature one she received at 6. The Screen Actors Guild honored her "most remarkable life" with a lifetime achievement award in 2006. Black's survivors include her children Susan Falaschi, Charlie Black Jr., Lori Black, a granddaughter and two great granddaughters.
Before it's here, it's on the Bloomberg Terminal.
LEARN MORE