SAP Opens Potsdam Hub as Founder Plattner Feeds Startups
Aaron Ricadela and Cornelius Rahn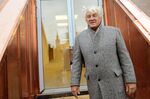 SAP AG opened a development center today outside Berlin, underscoring a commitment by the software maker's billionaire founder Hasso Plattner to incubate new technology and foster young programmers.
The innovation center sits on a lakeside 9 kilometers (5.6 miles) from the research institute that bears the SAP chairman and co-founder's name. SAP plans to make it a key development hub and will potentially double its staff to 150 to work closely with technology startups, said a person familiar with the matter, who asked not to be named because the plan isn't public.
"SAP has to be closer to the 150,000 students in Potsdam and Berlin," Plattner said, wearing a rumpled purple sweater and addressing a room full of staff, customers and journalists. "Not everyone wants to come to Walldorf."
Plattner, who turned 70 last month, is referring to SAP's headquarters more than 400 kilometers southwest of Berlin. The billionaire remains involved in the software vendor he helped found 42 years ago as it undertakes a tricky transition from programs for managing supply chains and financial systems installed on customers' computer servers to newer cloud-computing applications delivered over the Internet.
Profitability Target
SAP has already pushed back a profitability target because rented Web software costs less upfront than the programs it traditionally offered. It also requires a simpler user interface and the ability to develop products SAP can continually update online.
"Those two things have been traditionally difficult for SAP, but we have been putting a lot of energy into that recently," Vishal Sikka, SAP's chief technology officer and a board member, said in a recent interview.
It's a priority for SAP to make its software easier to use in an era dominated by smartphones and technology companies such as Google Inc. and Facebook Inc., Plattner said today.
At the two-day event, SAP is showcasing how its software can be applied to new areas -- such as personalized medicine and sports statistics analysis -- that can help with the transition. Other speakers include Sikka, who heads development of the Hana database under Plattner's tutelage, and co-Chief Executive Officer Bill McDermott.
Hana Growth
The data-crunching Hana software -- an acronym for high-performance analytic appliance -- rapidly processes millions of database records ranging from business data to genome sequences found in cancer patients' blood. The vast quantity of information amassed by businesses, governments and universities that requires powerful computers for storage and analysis is often referred to as big data.
SAP's outspoken chairman, with a fortune of $10.6 billion according to the Bloomberg Billionaires Index, has had a long-running professional feud with Oracle Corp. CEO Larry Ellison. Plattner incubated Hana, which competes with Oracle, using a small group of developers near Berlin. Sales of Hana grew 61 percent last year to 633 million euros ($864 million), and are a bright spot amid slower growth for traditional software.
The shares were little changed at 57.19 euros at 11:18 a.m. in Frankfurt, valuing the company at 70.3 billion euros.
The company's revenue may reach 19.1 billion euros in 2015, according analysts' estimates compiled by Bloomberg. The company had forecast 20 billion euros in sales for that year.
McDermott, an American who will take over as sole CEO in May, told investors in New York last week that SAP is dedicating more salespeople to online software. The shift to cloud computing would delay SAP's goal of reaching an operating margin of 35 percent by two years to 2017.
Plattner, who is SAP's biggest shareholder with a 10 percent stake, also plans to address how the new center in Potsdam can work more closely with the Hasso-Plattner Institute, an academic research body he has personally endowed.
Before it's here, it's on the Bloomberg Terminal.
LEARN MORE