Political Tempers Flare as British Floodwaters Rise
By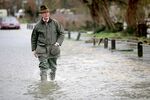 Britain is having its Hurricane Sandy moment. Weeks of unrelenting rain have left vast swaths of southwestern England underwater, and with water rising in the Thames Valley, the London area is bracing for the worst flooding in recent memory.
But while U.S. leaders at least temporarily set aside their differences after the 2012 superstorm (remember the Barack Obama-Chris Christie love fest?), the English floods have touched off a political free-for-all.
Prime Minister David Cameron today will hold his first press conference in 11 months to discuss what he is calling "the most extreme weather we've seen in our country in decades." He's also trying to stop finger-pointing within the government over its response to the situation. Communities Secretary Eric Pickles, among others, has publicly criticized the Environment Agency for doing too little to help flood victims.
The Environment Agency's chief, in turn, fired back with an open letter to the Guardian newspaper, saying his agency has been hamstrung by budget cuts and cost-benefit regulations imposed by higher-ups.
Not surprisingly, the government is coming under fierce attack from opposition leaders, too. Nigel Farage, head of the euro-skeptic U.K. Independence Party, has blasted the government's "lethargic" response and called on Cameron to raid the foreign-aid budget to help cover damages, already estimated at more than £1 billion ($1.6 billion).
Scientists are blasting the government for failing to heed warnings that climate change and poorly controlled development in low-lying areas was heightening the risk of catastrophic floods. Richard Ashley of Sheffield University, author of a 2004 government-commissioned report on flood risks, says the government's "obsession with deregulation" and budget-cutting had exacerbated the problem. In an interview with the Independent newspaper, he blamed "short-term politicians who don't take notice of the science."
Indeed, the science looks sobering. Ashley's 2004 report predicted that winter rainfall in Britain could increase by as much as 15 percent by 2050 because of climate change. After extreme flooding in 2007, the government commissioned an update based on newer, more advanced climate-change modeling. The new study predicted that winter precipitation could rise by as much as 25 percent by 2050.
Before it's here, it's on the Bloomberg Terminal.
LEARN MORE