Mercedes GLA SUV Tackles Rugged Rocks to Show Robustness
Chris Reiter and Dorothee Tschampa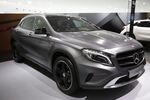 Mercedes-Benz is out to prove that a cheaper and smaller sport-utility vehicle can still deliver robust driving and loads of technology.
To underscore the point, Mercedes this week is showcasing the GLA, its most compact and lowest priced SUV, in the rugged terrain around Granada in southern Spain. The crossover, mixing features of a car and SUV, is being targeted at tech-savvy city dwellers with options such as iPhone integration, live traffic data and Glympse location sharing.
Daimler AG Chief Executive Officer Dieter Zetsche, who also directly runs Mercedes, jetted down from headquarters in Stuttgart, Germany, to sing the car's praises and argue that recent momentum at Mercedes is just the starting point for regaining the top global spot in premium-car sales that the brand lost to Bayerische Motoren Werke AG in 2005.
"The developments from January and the last few months are definitely satisfying, but it's certainly not the final confirmation that we've done everything right," Zetsche told reporters late yesterday against the backdrop of Spain's arid Sierra Nevada mountains. With 1.8 million kilometers (1.1 million miles) of testing, including 80,000 kilometers off road, "the GLA's no poser. It really ate dirt."
Cheapest SUV
He's got a lot riding on the GLA, which goes on sale in Europe starting in March. Zetsche has guided Mercedes, the third-largest maker of luxury cars, to faster growth in recent months than at BMW and Volkswagen AG's Audi. The crossover, the fourth of five new compact models designed to boost volume by luring younger buyers, is critical to maintaining that momentum.
And Zetsche's not stopping there. The CEO said last night he's considering adding a new "full-blown" factory outside Europe as he begins planning for the models that will follow the compacts currently coming to market, which he said may include additional vehicles beyond the five currently planned.
"We are supplying every compact car we can, but not all that the markets are demanding," Zetsche said.
The GLA will cost buyers 29,300 euros ($40,000) in Germany. It's scheduled to reach European showrooms on March 15 and U.S. dealers in September. At about half the price of the full-sized M-Class, the model will be the brand's cheapest SUV and bolster Mercedes's effort to overtake luxury-car segment leader BMW and second-ranked Audi in deliveries by the end of the decade.
Two-Pronged Attack
"With the GLA, Mercedes will be looking to scoop up customers from volume brands like Volkswagen, Nissan and Hyundai, while also taking on rivals Audi and BMW," said Tim Urquhart, an analyst at research company IHS Automotive in London. "It's a two-pronged attack."
Global sales at Mercedes rose 15 percent in January, with the compact line-up surging 32 percent. That compared with a 12 percent delivery increase at Audi and a 9.2 percent gain for BMW. Deliveries last year at Mercedes grew 11 percent, exceeding jumps of 8.3 percent at Audi and 7.5 percent at BMW.
The GLA is likely to help Mercedes beat Audi for the No. 2 position in global luxury-car sales next year, according to IHS estimates. Mercedes may outsell Audi by about 3,000 vehicles, lifted by 117,000 deliveries of the GLA, IHS predicts. BMW's namesake brand is projected to remain the clear segment leader, selling almost 200,000 more autos than both its German rivals.
Audi Q1
The gains at Mercedes may be fleeting, as GLA deliveries are unlikely to exceed demand for Munich-based BMW's competing X1 and Audi's Q3. Audi is expected to retake the global No. 2 spot again in 2016, when it introduces an even smaller SUV, the subcompact Q1, according to IHS estimates.
"Compact SUVs appeal to 'Generation Tech' kind of people," Urquhart said. "It's an attractive group that could end up being buyers for decades."
To counter the new Mercedes model, Ingolstadt-based Audi will roll out the Q3 in the U.S. in the third quarter. In November, the VW unit introduced the 54,600-euro, high-performance RS Q3 variant, which boasts 310 horsepower and acceleration to 100 kilometers (62 miles) an hour in 5.2 seconds. Audi began producing the Q3 in China last April.
BMW is refreshing the look of the X1 this year with sportier front air intakes, and it's making daytime running lights a standard feature. It's also expanding its offering of in-car electronic applications, such as a driving-lap timer and a program that analyzes vehicle operating efficiency.
Low-Slung Wagon
"We are very confident that the X1 will remain a success and sell well this year too," said Mathias Schmidt, a spokesman for Munich-based BMW.
The GLA is joining the van-like B-Class vehicle, the A-Class hatchback and CLA four-door coupe in the Mercedes compact product range that has propelled sales growth for the past year. A fifth model, a low-slung wagon, will come to market next year.
The models all share underpinnings to reduce costs and make the vehicles more affordable. To improve the profitability of the compacts, which is below Mercedes's target of 10 percent profit margins, Daimler is also talking with Nissan Motor Co. about sharing technology, Zetsche said.
The drawback of the shared underbodies is that the GLA, while sporting outdoorsy flair like a higher ground clearance of as much as seven centimeters and mudguards, bears unmistakable similarities to the A-Class.
Late Arrival
"There's the risk that the GLA could fall through the cracks halfway between an off-roader and a hatchback," said Neil King, an analyst at Euromonitor in London. With the GLA coming out 4 1/2 years after the BMW X1, "Mercedes is obviously a little late to the party."
To show that the GLA can hold its own off road, Mercedes encouraged journalists to test the car in the rocky Spanish countryside, including driving down a steep slope to demonstrate the vehicle's downhill-speed control system.
With the compact-SUV segment growing, it's a case of better late than never for dealers like Georg Pappas Automobil in Salzburg, Austria. The outlet for Mercedes and Fiat SpA's Jeep SUVs plans to invite customers and local media to a GLA presentation next month that will include food and a live band.
"The GLA is a very expressive car, and young men will like to drive it," said Stefan Pusch, a salesman at the dealer. "Compared to the more sporty A-Class, the GLA is a little more comfortable. It's easier to get in and out, and the overview is better."
Mercedes is wagering that a large number of these young customers eventually trade up to pricier models like the mid-sized GLK SUV and the exclusive G-Class offroader.
"Mercedes has always been a brand with high loyalty rates and never a brand with as much conquest power as we have right now," Zetsche said on a call with analysts last week. "If we were to apply the loyalty rates to our conquest customers, this would be a very strong foundation for the future."
Before it's here, it's on the Bloomberg Terminal.
LEARN MORE