KKR to Close Two Funds for Individuals in Retail Setback
Margaret Collins and Devin Banerjee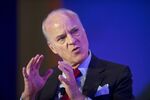 KKR & Co., the buyout firm run by George Roberts and Henry Kravis, will close down two funds targeting individual investors in a setback to private-equity firms' efforts to attract money from individuals and eventually the $4 trillion market for 401(k) retirement plans.
The funds, started little more than a year ago to invest in high-yield debt and distressed companies, received $33 million from investors after New York-based KKR provided them with $125 million of its own capital to get started. They will stop accepting new money and existing investors can sell their shares or be paid by KKR when it liquidates the pools on or about March 31, according to filings yesterday with the U.S. Securities and Exchange Commission.
The decision highlights the obstacles for KKR and its largest peers as they seeking to crack open the market for individual investors. The firms, coveted by the rich and institutional investors such as pension funds and endowments, traditionally require locking up clients' money for long periods, an option less affluent individuals aren't accustomed to. Despite the liquidations, KKR said it plans to increase offerings to smaller investors.
"Over the last three years, KKR has been expanding its investor base to enable individual investors to participate," Kristi Huller, a spokeswoman for the firm, said in an e-mail. "We have a number of other offerings for individual investors, including private equity, under development for launch this year."
Quarterly Liquidity
KKR will close the Alternative High Yield Fund, a mutual fund started in November 2012 with daily liquidity, according to one filing. The firm found it had too much competition from high-yield mutual funds with multiyear track records, according to a person familiar with the decision.
At least one employer had added the high yield fund to its 401(k) plan investment options, said the person, who requested anonymity because internal discussions were private. The fund had a cumulative return of almost 10 percent from inception through Feb. 7.
The firm is also closing the Alternative Corporate Opportunities Fund, a closed-end pool that started accepting investor money in January 2013, according to the other filing. Financial advisers resisted the offering's quarterly liquidity and the paperwork required to add an allocation to their clients' accounts, according to the person. The pool returned 14 percent in the 12 months ended Dec. 31.
'Every Day'
KKR raised $4.7 billion across its funds in 2013 from individual investors, including high-net-worth clients, representing about 23 percent of its total fundraising in the year, according to Scott Nuttall, the firm's head of global capital and asset management. KKR had collected $1.8 billion from individuals the previous year, Nuttall said last week on a conference call discussing fourth-quarter earnings.
KKR executives think about accessing 401(k) platforms "every day," Mike Gaviser, who oversees individual-investor offerings at the firm, said in an interview last year. Roberts said in November 2012 when introducing the funds at a Chicago conference that the firm's long-term goal is to make its offerings accessible to smaller investors by lowering or eliminating hurdles.
The firm is developing a private-equity product that would be available to investors other than just the high-net-worth, which may be available as soon as this year, the person familiar with the plans said, declining to give further details.
Blackstone, Carlyle
KKR competitors Carlyle Group LP and Blackstone Group LP, as well as funds-of-funds manager Pantheon Ventures LLP, are also trying to access the market for retail money.
Blackstone, the biggest manager of alternative assets, offers a fund of hedge funds with daily liquidity on Fidelity Investments' platform and an exchange-traded fund with State Street Corp. to invest in speculative-grade loans. Across its funds, New York-based Blackstone raised $7.5 billion from individual investors last year, compared with $600 million in 2009, President Tony James said last month.
Carlyle, based in Washington, last year started a fund with New York-based investment firm Central Park Group LLC that accepts as little as $50,000 from individual investors. Central Park Group plans to allocate money from the pool to funds run by Carlyle, the second-largest alternative-asset manager, including to the firm's leveraged-buyout funds, according to regulatory filings.
Pantheon, a London-based firm that oversees more than $25 billion in private-equity assets, last year started a platform to allow target-date funds within corporate 401(k) plans to invest in private-equity funds managed by other firms. The process of signing up retirement plans "is a very slow one," spokesman Carsten Huwendiek said last month.
Before it's here, it's on the Bloomberg Terminal.
LEARN MORE