If JPMorgan Has to Shun China's Princelings, Shouldn't Harvard?
By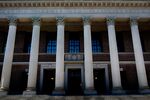 As bank scandals go, hiring well-connected Chinese kids doesn't provoke the same outcry as sky-high executive pay or marketing toxic mortgage debt as a safe investment. But U.S. Justice Department officials smell bribery when the powerful relatives of international hires then toss some business to Junior's new employer. Such suspicious arrangements can lead to criminal charges back home under the Foreign Corrupt Practices Act.
The line between fostering good relations and fraud can be a fine one, though, especially in a market such as China, where an employee's network can be crucial to winning business. That's why a federal investigation of hiring practices at JPMorgan Chase is simmering at a low boil. The latest dustup concerns a Chinese insurance official's e-mail to JPMorgan Chairman and Chief Executive Officer Jamie Dimon, following up on a request to consider hiring a friend's daughter. Anyone who has ever fielded a similar request can almost hear the groan in Dimon's alleged response to "do what we can." Still, this is serious stuff. UBS just put two bankers on leave as it investigates whether the daughter of a Chinese industrial titan was hired to win business.
Harvard, MIT, Stanford, and other U.S. schools have long cast themselves as the training grounds for future leaders. As the balance of power and wealth shifts to Asia, it makes sense that some recruiting focus would shift there, too. Foreign students enrich a college on multiple levels—including the bottom line, as they often pay full freight.
That's especially critical at the graduate level, where schools compete to be seen as the Mecca for global talent. As with corporate hiring, the factors that get someone admitted can be squishy. Take Harvard, for example: While it requires all students to submit standardized test scores, entrants are judged on "holistic criteria" that include their background and interests. Harvard, of course, isn't alone in this practice, and there's nothing improper about evaluating applicants on more than just GMAT scores.
At Harvard, foreign nationals make up about 10 percent of the undergrad class. At Harvard Business School and Harvard Kennedy School, the proportion ranges from a third to almost half, respectively. The top source of those students is China. Of the 4,458 foreign students at Harvard this year, 722 come from China. When you look at who can afford up to $100,000 a year in a country whose per capita income is closer to $6,000, is it any wonder that kids with powerful parents would figure heavily in the mix? When the once-powerful Bo Xilai was tried for corruption, his son Bo Guagua was at the Kennedy School. The daughter of Chinese leader Xi Jinping is now studying at Harvard under a pseudonym. Such Party leaders as Jiang Zemin and Zhao Ziyang are said to have had relatives at Harvard, too. (That pattern isn't unique to China, of course: the granddaughter of Samsung's founder went to Harvard.)
At the same time that Harvard and other elite schools are attracting more Chinese students, they're doing more business in that country. Four years ago, Harvard opened the Harvard Center Shanghai, where it offers pricey executive education programs to Chinese nationals. It established the Harvard China Fund, an "academic venture fund" that, among other things, promotes Harvard's presence in China. These are in addition to the many other partnerships, programs, and links that Harvard and schools like it have established on the mainland. All of it can lead to terrific research, bridge-building, and relationships that benefit everyone.
But are the goals of Harvard, and other schools like it, all that different from banks? As U.S. schools grow their Chinese business, they're likely to face increasing pressure to give the children of powerful players special treatment.
Before it's here, it's on the Bloomberg Terminal.
LEARN MORE