Hungry for Ads, HLN Tries to Be Cable TV's Social Media Factory
by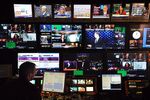 Are consumers really hankering for more curated, re-purposed viral Web content? There have been recent signs of growing viral-media fatigue. Even so, at least one major media company is betting that there's still room for a lot more doge in our lives—especially on cable TV.
HLN, the cable-TV network owned by Time Warner and home to Nancy Grace, has been known in recent years for its extensive, feverish coverage of high-profile court cases. But a newly announced re-branding means it's out with the murder trials and in with the memes. "Taking a cue from today's connected and wildly social generation, HLN will curate the news from across all platforms," the network announced in a press release. "Headlines will be ripped from the most 'plugged-in' sites and blogs, and HLN will make it its mission to share the trending news, viral events and stories that have viewers most obsessed, plus discover emerging social stars."
What's driving the shakeup? HLN executives spun the shift in strategy as a bold, forward-looking move designed to capitalize on the shifting habits of young media consumers. In reality, however, the move is also a reflection of a pressing business problem currently facing the network: Its advertising revenues are in a tailspin.
Back in 2011, a banner year for prominent courtroom dramas, Casey Anthony and company helped HLN pulled in $196.3 million in estimated ad revenue, according to SNL Kagan. That number fell 9 percent, to $179 million, in 2012 before tumbling a further 6 percent, to $167.6 million, last year.
Most cable networks enjoy a robust, dual revenue stream, consisting of (a) advertising dollars and (b) subscription fees from cable and satellite distributors. So even if a network's executives find themselves caught in a bad advertising cycle, they can at least count on steady income from subscribers. Not so HLN, as Peter Lauria reports today in BuzzFeed:
The network is given away to pay-TV operators for free as part of a bundle with CNN and Time Warner's other cable networks, just tagging along with its big brothers like an annoying little one nobody wants to play with.
This means HLN is more dependent on advertisers than any of its cable-news competitors. Which, in turn, might explain why the network, staring at two straight years of falling ad revenue, might feel pressed to chase after the younger viewers advertisers covet, wherever they happen to be lurking.
In today's media calculus, that means trying to cultivate and profit from the free and fleeting currency of the social media—even if you happen to be an aging cable network. At the very least, curating news from the Web should be cheaper for HLN to produce than reporting it first-hand. "We're not the news network," HLN announced today. "You are." And you don't get paid.
Before it's here, it's on the Bloomberg Terminal.
LEARN MORE